Sri Lankan pilgrims' buses attacked again in Tamil Nadu
Posted by Editor on September 4, 2012 - 4:26 pm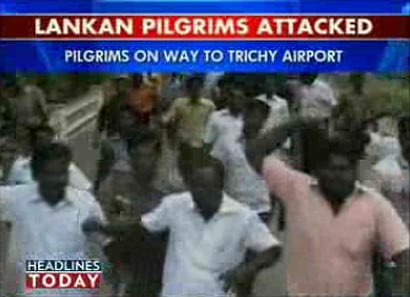 A group of Sri Lankan pilgrims were targeted allegedly by pro-Tamil groups near Trichy airport on Tuesday. The protestors smashed windshields of three buses carrying the pilgrims even as the police escorted the vehicles.
It was the second such attack in two days. The visitors were meted out similar treatment during their pilgrimage to Poondi Madha Christian shrine near Thanjavur on Monday.
A pro-Tamil outfit tried to block the pilgrims' vehicles when they were returning after offering worship at  the famous Velankanni Christian shrine.
The pilgrims have been in a state of shock and panic since the attacks on them. A pilgrim told Headlines Today: "We are human beings. Why are we being attacked? We are here for pilgrimage. We are not against anyone. We have spent lakhs for this. We have not got any food and water on us."
Following the incident, the pilgrims were taken back to the airport amid tight security.
Source: India Today
Latest Headlines in Sri Lanka