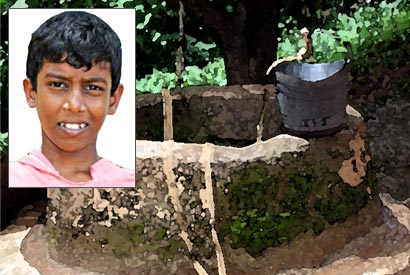 Nipun Dhananjana, 11, who rescued his sister Achini Dhananjana, 9, from drowning in a 70-foot well in Athuwana, Chilaw was rewarded for his heroic act.
The girl had fallen head-on into a steep and unprotected well.
Achini had applied soap on her face and when she reached for the bucket used to draw water, she had accidentally fallen into the well.
Her brother Nipun had untied the rope attached to the bucket and fastened it to a tree. He had then descended into the well holding the rope, while the neighbours who had gathered by then, had pulled them out.
Wayamba Provincial Fisheries, Electricity, Housing and Construction Minister Sanath Nishantha Perera who heard about the accident, visited the family and allocated Rs 100,000 from his ministry to build a house.
Minister Perera also set aside money from his personal funds to construct a protective wall around the well.
Courtesy: Daily News