No LTTE flags at UNP rally in Jaffna: Tissa
Posted by Editor on May 3, 2012 - 8:11 am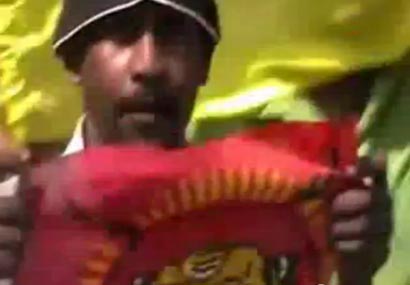 The United National Party (UNP) yesterday vehemently rejected reports that there were LTTE flags in the UNP May Day rally in Jaffna and charged that the images shown on state media were meant to deceive the viewers and sling mud at the party.
UNP General Secretary Tissa Attanayake said the May Day rally was attended by thousands of party supporters and that the event was a success. He said there were definitely no LTTE flags at the Jaffna rally.
"The LTTE flag shown on television was a government creation to sling mud at us and ruin the party image. There were no such flags at the rally and there were plenty of those who witnessed the rally who are witness to the fact that there were no such flags," Mr. Attanayake said.
A state television station telecast the UNP May Day rally held in Jaffna soon after the celebrations. It showed LTTE flags in the midst of the gathering at the UNP rally.
The UNP in a letter to ITN Chairman Rosmand Seneratne charged that the he had violated the terms of the prevention of Terrorism Act by showing images of LTTE flags on television and that the matter should be immediately inquired into by the defence ministry
In the letter Mr. Attanayake said there were more than 100 local and foreign media personnel and a large number of police and army officers on standby.
"It appears that your cameramen had seen these flags although they were not seen by anyone else present at the rally," the letter said.
Mr. Attanayake said UNP Chairman Gamini Jayawickrama Perera had asked the ITN cameraman why the images of LTTE flags were carried and he had said he was acting on orders given to him by the ITN chairman.
"The LTTE is a banned terrorist organisation and showing images of LTTE flags is therefore unlawful. If such a thing actually happened it is your duty to have informed the defence authorities. But you had not. This goes to show that you had committed a deceitful act in showing the images of LTTE flags," the letter said.
Courtesy: DM Online
Latest Headlines in Sri Lanka