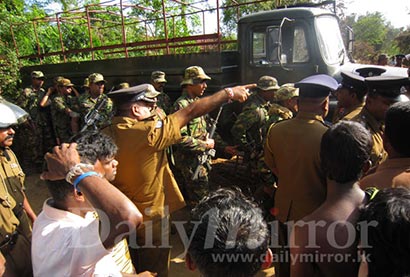 A group of treasure hunters who were digging up a treasure with a backhoe in a tank bund at Dunumadalawa in Ranorawa off Wilachchiya clashed with the residents of the area who opposed them, police said.
It is alleged that the group of individuals who were involved in treasure hunting were STF personnel.
It is reported that they assaulted the villagers and attempted to shoot them. Several villagers including women were injured in the incident. Meanwhile few in the group managed to flee from the scene with the back-hoe in the direction of Ittikulama.
Others were caught and handed over to the Police who rushed to the scene.Police recovered tools and equipment and a tray of offerings near a 10ft. pit dug up in the tank bund by the suspects.
Courtesy: DM Online