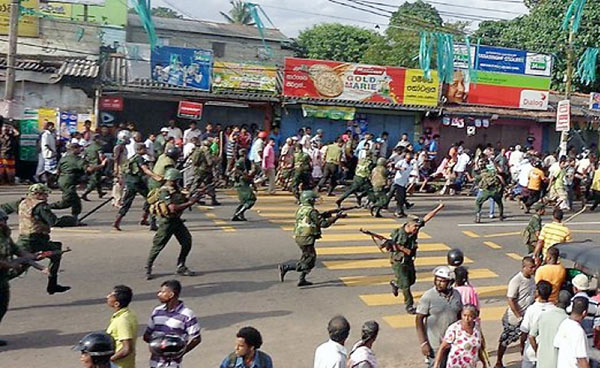 Brigadier Deshapriya Gunawardena, who has been accused of ordering the Army to open fire at protesters in Rathupaswala in 2013, was arrested and questioned by the CID yesterday, Police said.Three people died when security forces personnel opened fire indiscriminately at protesters who were demanding clean drinking water and the closure of a factory that was releasing chemical affluent that was seriously polluting ground water in the area.
Brigadier Gunawardena had called at the CID offices on earlier occasions to be questioned over the same incident.
Gunawardane, who is the fourth Army Officer to be arrested in connection with the Rathupaswala shooting, was remanded until 31 May when he was produced before the Gampaha Magistrate yesterday. Two corporals and a sergeant were earlier arrested by the CID in this connection.
Subsequent to the Rathupaswala killings, Brigadier Gunawardena was sent on a diplomatic posting to the Sri Lankan Embassy in Turkey by the Rajapaksa Administration, a move which was widely criticized by Sri Lankan Opposition lawmakers at that time. The Army attack on the protesters on 1 August 2013 resulted in three deaths, two of them teenage students, and injured 26 others including several journalists.
(Source: Ceylon Today – By Rathindra Kuruwita)