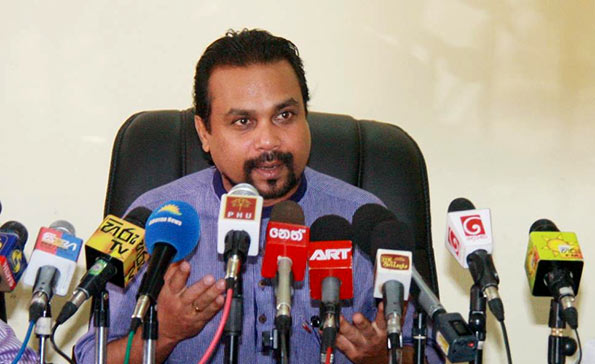 National Freedom Front (NFF) Leader MP Wimal Weerawansa yesterday charged that the Financial Crime Investigation Division's (FCID) officials were being trained by the British High Commission in Colombo to hunt down the politicians who are against the agenda of the Britain.
He made these remarks while delivering a speech under the theme 'The end of the motherland's journey' at the Ape Gama in Battaramulla.
MP Weerawansa said the British High Commission was facilitating and conducting lectures to the FCID officials in groups on how to make an innocent man guilty.
"The High Commission is tutoring officers to create a thief out of an honest man. However, its main agenda is to tie down the politicians who are against their agendas which are the power devolution and separatism," he said.
He said the UK, US, Norway and India had declared that they should be given the credit for the regime change in Sri Lanka, and therefore the government has to execute the demands of these countries.
Meanwhile, he said the government is finalizing measures to bring in a parliamentary Bill to create a special war crimes Court before the UN Human Rights High Commissioner Prince Zeid Ra'ad Al Hussein's visit to Sri Lanka next month to satisfy the Prince.
He said the measures are already being taken to weaken the military and the authority of the central government in order to pave the way for Tamil separatism.
"The latest and the vicious tactic of the government to achieve this goal is to create conflicts among the Sinhalese and the Muslims. When the attention diverted on these issues, the government can introduce Tamil Eelam and separatism through the back door," the MP said.
He said the UN General Assembly would push for the recognition of a separate Tamil State once there is anarchy in the country and then it would intervene to send their army to Sri Lanka in the guise of maintaining peace.
"We are at a critical juncture today, and we have to come together to save the motherland. The people rejected Prime Minister Ranil Wickremesinghe and his government in 2004 after he was elected in 2001, and this time he will be given a farewell party even before three years had gone," MP Weerawansa said.
(Source: Daily Mirror – By Lahiru Pothmulla)