BRITISH PRIME MINISTER CAMERON WILL ATTEND CHOGM IN SRI LANKA – DR CHRIS NONIS
Posted by Editor on May 5, 2013 - 12:41 pm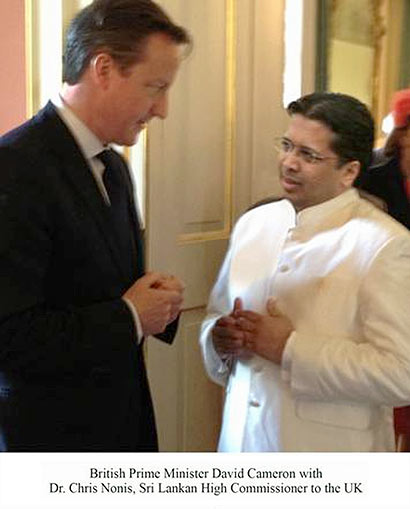 British Prime Minister Rt Hon David Cameron, and Foreign Secretary Rt Hon William Hague, will be attending the Commonwealth Heads of Government Meeting (CHOGM) in Sri Lanka, Dr Chris Nonis, Sri Lankan High Commissioner to the UK confirmed. The Commonwealth biennial meeting in November this year, will be preceded by the Commonwealth People's Forum, the Commonwealth Youth Forum, and the Commonwealth Business Forum, and usually attracts several thousand delegates, and global media coverage. It will provide the opportunity for the 54 Heads to meet to discuss matters of global and Commonwealth concern, and agree collective policies and initiatives.
Although there had been intensive lobbying in the past year by anti-Sri Lanka activist groups with collateral agendas, in particular in London, which is home to the Commonwealth Secretariat, they had not succeeded in their attempts to pressurize Commonwealth Nations to shift the venue, nor to pressurise the Commonwealth Ministerial Action Group to place Sri Lanka on its formal agenda.
In that context, Dr Nonis reiterated the strong support that Sri Lanka enjoyed amongst the Commonwealth countries, represented by the Board of Governors of the Commonwealth Secretariat, comprising the 54 London-based Commonwealth High Commissioners, during their regular deliberations at Marlborough House, in the spirit of unity and friendship. He also recalled the unwavering support of all except one Country, at recent meetings, which necessitates a depth and breadth of understanding that Commonwealth countries are at different stages of development, with a commonality of values and aspirations, as well as challenges and constraints, and it is precisely this rich and diverse tapestry that makes up the modern Commonwealth.
Dr Chris Nonis also spoke earlier this week at the BBC's RADIO 4 "Today" Programme in London, the BBC's  flagship news and current affairs programme, which provides insight, analysis and expert debate as key policy makers are challenged on the latest news stories throughout the UK. He articulated the comprehensive reconciliation, reintegration, and reconstruction programme underway in Sri Lanka in the post-conflict era, under the leadership of HE President Mahinda Rajapaksa. Questioned by BBC interviewers, he also pointed out the imperative for the international community to visit Sri Lanka and make an objective and impartial analysis of the reality of contemporary Sri Lanka, and extended an invitation to all those countries to experience Sri Lanka, the Host Nation of CHOGM 2013.
The High Commission of Sri Lanka
London
Latest Headlines in Sri Lanka