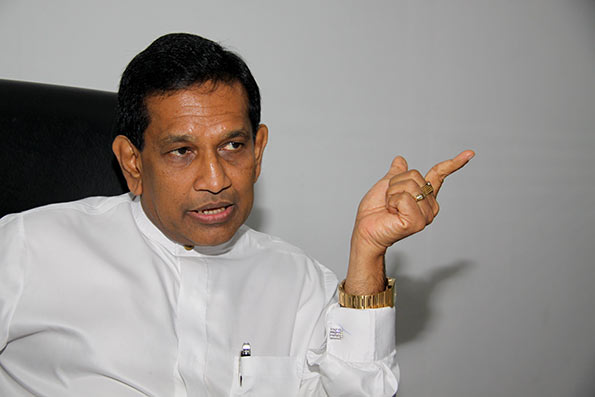 A heated verbal battle arose at the Cabinet meeting last morning over the Avant Garde private security firm and Public Order Minister Thilak Marapana's statement in Parliament over the conduct of the company.
Ministers Patali Champika Ranawaka and Rajitha Senaratne strongly criticised Minister Marapana's statement at the Cabinet meeting and even threatened to quit the government if the government failed to conduct a fair investigation into Avant Garde private security firm.
As the meeting started, Minister Senaratne, voicing his concerns over the statement made by JVP Leader Anura Dissanayake on Avant Garde Company on Wednesday, said even the President and the Prime Minister had come under criticism as a result of the government's inaction over the private security firm.
At this point, President Maithripala Sirisena intervened and said he had no issue about probing into Avant Garde Company and criticism leveled against him had no real basis.
Minister Ranawaka directing his criticism against Minister Marapana said the minister had trivialised a major controversy and exonerated a company that was allegedly involved in many wrongdoings.
Both Senaratne and Ranawaka accused Marapana of giving legal assistance to the security company. They also charged that the Public Order Minister had changed his position over the company after the latter became his "client".
"There were allegations that the company attempted to bribe various parties to cover-up their crimes. If there were no issues on the part of Avant Garde, why did the company attempt to bribe certain individuals?" Senaratne asked.
"We were the one who formed this government. We risked our lives. At one point, we thought we would have to commit suicide, if Maithripala Sirisena lost the Presidential election. Today, we can't even face the society, thanks to these lousy investigations," the minister lamented.
Meanwhile, Minister Rauff Hakeem said the Cabinet was kept in the dark about the statement made by Minister Marapana in Parliament.
Minister Marapana, in response to the claims made against him, said his statement was based on findings and reports of the Attorney General's Department.
He said the Attorney General's Department had no connection with the private security firm and carried out its duties independently.
The minister also added that the company had paid taxes to the government and there was no legal basis to take action against its owner.
In response, Senaratne and Ranawaka said they were dissatisfied and disappointed with Marapana's matter and the entire issue had reflected badly on the government.
However, President Sirisena assured to discuss the matter further at the Parliamentary group meeting of the ruling party.
(Daily News)