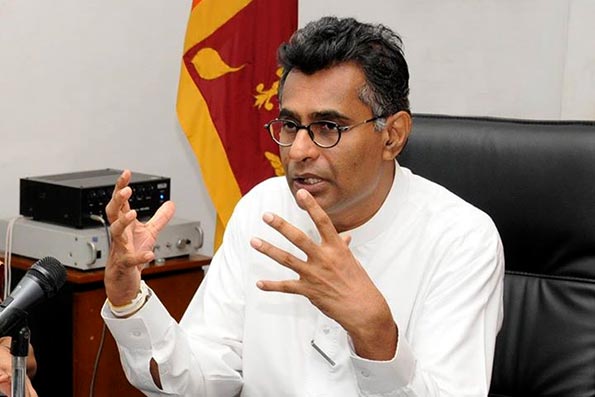 Sri Lanka's future infrastructure development projects should be done in consultation with the people, without resorting to any adhoc and haphazard measures, Minister of Megapolis and Western Regional Development Patali Champika Ranawaka said.
"We have identified some of the previous mistakes that were done with regard to infrastructure development during the past regimes. Therefore, the entire proposed megapolis is being designed in a more environmentally sustainable manner to avoid past mistakes, Minister Ranawaka said at the LBR LBO Infrastructure Summit 2015, held at the Cinnamon Grand on Tuesday. The theme of the event was "Making Colombo a Globally Competitive City".
"The first mistake which occurred was that the people were not consulted and so we decided all future projects will be done with the consent of the people, he said.
"We have ports and airports without ships and aircraft while there are shopping complexes that are not sustainable.This kind of investment is of no use. If the people were consulted during these projects they could have benefited from this, he said.
"In Sri Lanka's urban areas, an unacceptable number of people continue to live in slums, earn insufficient incomes and live in vulnerable and unhealthy environments.
"Further, the proposed megapolis has its focus on environmental sustainability and 30 of the low lying land areas will be allocated to a natural basin to prevent floods and for green areas, he said. "The main objective of the megapolis is to uplift the lives of everybody, the minister explained.
"This city has many issues, including the plight of the poor who need to have better options for livelihoods – they should not be having kiosks on the pavements, drive three wheelers or get caught in underworld jobs, he said.
"These children need a better future, this will be a priority."
Current economic models are not providing a sufficient basis for inclusive and sustainable development, according to Ranawaka.
"Sri Lanka's slum dwellers face acute poverty, illiteracy and lack of adequate housing, educational and employment opportunities. With poverty, most children are deprived of education and, early in life, turn to small jobs to support their families.
"Under the megapolis program, the entire Western Province will be developed as a mega city by 2030, ensuring equal opportunities for every citizen, which would also position Colombo as an intelligent city, he said.
The plan envisages the transformation of Sri Lanka's capital Colombo into a main business center with urbanization and housing for an estimated two million people, as opposed to the approximately one million now. "Under the plan Colombo will conform to cultural, social and geographical norms."
"Another issue that we are looking at and that needs to get sorted out is the city's traffic jams.
"We need to urgently improve our public transport system if we're to reduce traffic jams, he said.
"Transport experts have warned that worsening traffic jams in Sri Lanka's main metropolitan region could raise costs for businesses and slow down economic growth if urgent remedial action is not taken.
"Data shows that in another 20 years, Colombo will have to cope with three times the volume of traffic as personal incomes rise and private vehicles become more affordable and bus transport decreases, the minister said.
Director General of the Urban Development Authority Nayana Mawilmada said Colombo has 65,000 slum and shanty houses occupying 900 acres of real estate.
"There is no land shortage in Colombo, there is land under-utilization. That's a core problem," he said at the forum.
The approach is to offer a mix of solutions from 4 storey apartments to high rises, he said.
"The process will take people living in a 100 to 200 square foot wooden shack into a 400 to 500 square foot apartment that is valued at 4 million rupees at construction cost alone, Mawilmada said.
(Source: The Island – By Hiran H.Senewiratne)