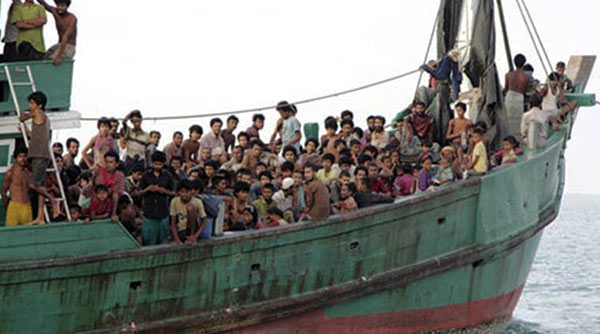 A day after Sri Lankan Prime Minister Ranil Wickremesinghe categorically stated that his government will not admit Rohingya refugees into the country, a pro-peace think tank, the National Peace Council of Sri Lanka appealed to the Sri Lankan government to lift the ban on the entry of Rohingya refugees, taking into account the "intensity of atrocities against men, women and children at unprecedented scale in their native Myanmar".
"We regret that they have been sent away without being considered as refugees," NPC said in a statement released in Colombo on Sunday. "The plight of entire communities of people who have lost their loved ones, homes and properties due to the conflict in Myanmar has a special resonance to us in Sri Lanka. Due to the ethnic conflict, terrorism and war that last over
three decades, we lost over a million of our people who left the country to seek asylum in other parts of the world."
"The National Peace Council therefore urges the government to reconsider its decision to screen out Rohingyas to prevent them from entering Sri Lanka," the statement said pointing out that as a member country of the United Nations, Sri Lanka is a signatory to the UN Convention of 1951 pertaining to the status of refugees and has an obligation to take on global responsibilities.
On Friday the prime minister told a meeting of a government parliamentary group that the refugees coming to Sri Lanka give rise to suspicion that they are part of an "organised" immigration racket, adding that Rohingya refugees of Myanmar can easily seek refuge in Bangladesh or Thailand.
His comments come in the backdrop of counter demonstrations being held in the island nation, opposing each other's viewpoint on the Rohingya Muslim issue in Myanmar where the Sinhala Buddhist majority population and the Muslim minority community see the tragic events in Myanmar as a Muslim-Buddhist issue and not as a humanitarian issue.
In the Muslim-majority areas in Sri Lanka's Eastern Province, Muslims earlier this month began demonstrating against the killing of Rohingyas in Myanmar's Rakhine State.
Muslim leaders in the capital city of Colombo, including those in the ruling United National Party, took up the issue subsequently, demanding international action against the Myanmar government. This led to Buddhist organisations organising counter protests marching towards the Myanmar High Commission in Colombo demanding that Sri Lanka should not accommodate Rohingya Muslim refugees, who, they alleged, had destroyed Buddhist places of worship and massacred Buddhist monks.
(Source: Dawn)