Canadian Tamils urge ICC to 'take action' in Sri Lanka
Posted by Editor on May 9, 2011 - 12:07 pm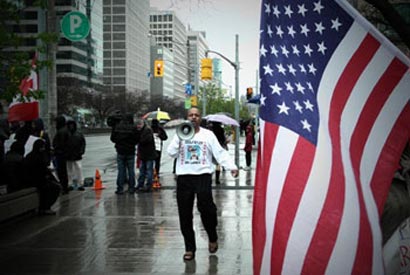 Hundreds of Tamils gathered outside of the United States Consulate in downtown Toronto where they urged the International Criminal Court and President Barack Obama to unite with "democratic nations" to for an independent inquiry in Sri Lanka, Canadian media reports.
It was reported last week that the United Nations published the Secretary General's panel of experts report highlighting the accountability measures in the final days of the civil war in Sri Lanka, analysis on what exactly happened and interviews from various sources who were involved in the war between President Mahinda Rajapaksa's security forces and the Liberation Tigers of Tamil Eelam.
The report was released days before Tamils worldwide mark the month of May as "Tamil Genocide Remembrance Month." The international Tamil community will take part in various events commemorating those who have lost their lives in Sri Lanka.
One of the first events that took place this month was a large rally in front of the United States Consulate in downtown Toronto where representatives of the Canadian Tamil community and associates from both the National Council of Canadian Tamils (NCCT) and the Transnational Government of Tamil Eelam (TGTE) assembled.
The purpose of Friday's rally was to gather as many signatures as possible to urge the International Criminal Court, United States President Barack Obama and his government and Canadian Prime Minister Stephen Harper and his Members of Parliament to demand the United Nations to establish an independent public investigation in Sri Lanka.
"We're protesting to inform the world that even the report that the Sri Lankan government made a mistake, so we're bringing the issues to the outside world," said NCCT Chairman of Ontario, Arul Nalliah. "We're also here to urge the UN to report on the issues to the international community and that's what we want."
When asked if the Canadian federal election addressed the concerns of Canadian Tamils, the NCCT Ontario Chairman emphatically stated no.
"I think it was totally ignored, but after Harper was elected, most of the Tamils are now getting involved in politics, so it's been a good sign," said Nalliah. "I believe Mr. Harper is willing to take care of the issue because it has happened and the genocide is happening."
Although U.S. Consulate officials were not present at the rally, Nalliah stated that since 2009 they have been very helpful and that they know of the current situation and crisis occurring in Sri Lanka and the concerns Tamils possess across the globe.
"We really want the U.S. government to help us because we are really suffering over there."
On May 18, there will be a candlelight vigil in front of the Ontario Legislature at Queen's Park to observe War Crimes Day. Numerous Members of Parliament and Members of Provincial Parliament have been invited to take part in the ceremony, Toronto Examiner reports.
Courtesy: Ada Derana
Latest Headlines in Sri Lanka