Catholic Church asks Sri Lanka not to mix pope and politics
Posted by Editor on December 2, 2014 - 7:32 am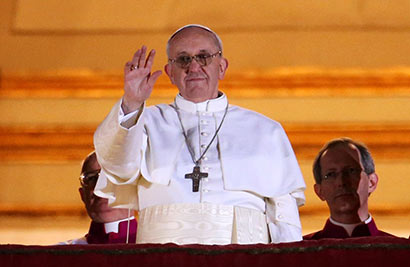 The Catholic Church Monday asked Sri Lankan authorities immediately to remove presidential election posters bearing the image of Pope Francis, who is scheduled to visit the island next month.
The church also denied claims by an opposition lawmaker that the pontiff had cancelled his January 13-15 visit because a presidential election was being held just days earlier.
"We categorically state that the visit of the holy father will go ahead as scheduled," the church said in a statement. "We ask legislators not to make irresponsible statements and mislead people."
The church itself had earlier expressed doubts over the visit so close to a national election.
Roman Catholics account for around six percent of Sri Lanka's 20 million population and their block vote is seen as crucial to secure the presidency in the January 8 vote.
The church statement said authorities had been asked to remove all campaign posters with the image of the pope and other church symbols.
It said a previous request to political parties appeared to have been ignored.
Posters which have been displayed in Catholic-populated areas show President Mahinda Rajapakse at a recent audience with the pope.
Rajapakse, a member of the majority Buddhist community who is seeking an unprecedented third term, is being challenged by his former health minister Maithripala Sirisena, who is also a Buddhist.
(AFP)
Latest Headlines in Sri Lanka