Chelsea Clinton weds in private ceremony
Posted by Editor on August 3, 2010 - 8:49 pm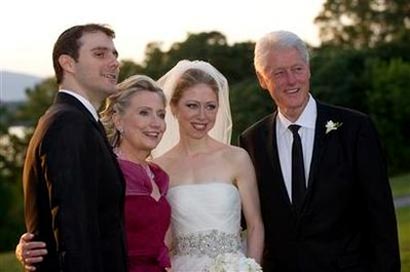 Onlanka News – By Janaka Alahapperuma
(Photos by: Genevieve de Manio)
Chelsea Clinton, the only child of the former U.S. President William Jefferson (Bill) Clinton and the U.S. Secretary of state Hillary Rodham Clinton wed her long-time boyfriend Marc Mezvinsky on Saturday 31 July at Astor Courts, an historic 50 acre estate about 100 miles north of New York City.
The site of the wedding, a Beaux arts riverside estate in the picturesque New York Village of Rhinebeck in what was dubbed 'America's royal wedding', was sealed off from the general public. Media were kept well away from the venue. The wedding was a mix of high society and high security. The road to Astor Courts was blocked off and the sky above was declared a no-fly zone by Federal Aviation officials for 12 hours. Police and security guards fanned out around this usually sleepy town and neighbors received bottle of wine for their troubles.
The guest list was reported to be between 400 and 500, but did not include President Barack Obama. The ceremony was conducted by a rabbi and a reverend as Chelsea Clinton is Methodist and Mezvinsky is Jewish.
Chelsea (30) and Marc (32) have known each other since they were teenagers and both attended Stanford University. They now live in New York, where Marc works at G3 Capital, a Manhattan hedge fund. He worked previously as an investment banker at Goldman Sachs. Chelsea completed her Master's in public health at the Mailman School at Colombia University earlier this year.
Marc is a son of former Democratic U.S. House of Reps. Marjorie Margolies-Mezvinsky of Pennsylvania and Edward Mezvinsky of Iowa, longtime family friends of Clintons. Marc's parents are divorced.
"Today, we watched with great pride and overwhelming emotion as Chelsea and Marc wed in a beautiful ceremony at Astor Courts, surrounded by family and their close friends. We could not have asked for a more perfect day to celebrate the beginning of their life together, and we are so happy to welcome Marc into our family. On behalf of the newlyweds, we want to give special thanks to the people of Rhinebeck for welcoming us and to everyone for their well-wishes on this special day" the Clintons said in a statement.
"Hillary and Bill properly want to keep this as a thing for Chelsea and her soon-to-be husband. It would be tough enough to have one president at a wedding. You don't want two presidents," U.S. President Barack Obama said in a TV talk show on Thursday.
Latest Headlines in Sri Lanka