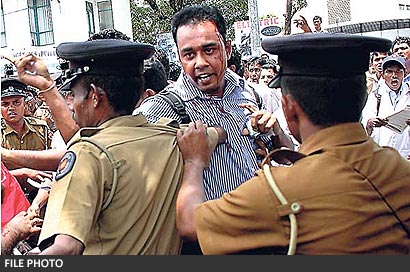 DM Online – By Krishan Jeewaka Jayaruk
A tense situation has erupted in the Matara town where over 2000 university students are on a protest march to the Matara Police station demanding the police to arrest the police officers responsible for the murder of university student Susantha Bandara.
The protestors have obstructed traffic along the Colombo-Matara main road bringing traffic to a complete standstill.
The army, riot police and a special police contingent have been deployed in and around Matara town to prevent the protestors from proceeding beyond the Matara bus stand.
The protest has been organized by the Inter University Students Federation (IUSF) who are demanding the police to take immediate action against Bandara's murder.
Susantha Aruna Bandara, a third year student of the Ruhunu University passed away last month as a result of the injuries he suffered following an assault by the police at the University premises in June, the IUSF said.
According to IUSF Convener Udul Premaratne, the deceased student had suffered severe injuries after being assaulted by the police on June 18 while he was at the university hostel.