Sangakkara backs returning Malinga to deliver
Posted by Editor on August 3, 2010 - 1:38 am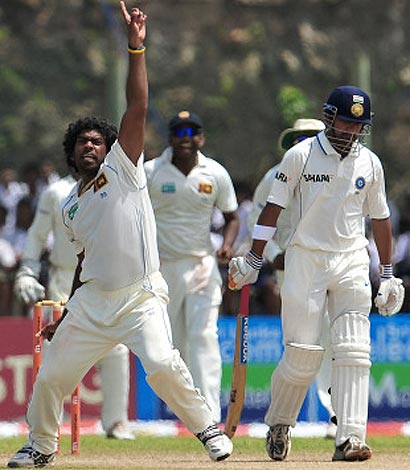 Source: Cric Info
Sri Lanka captain Kumar Sangakkara was pleased with the return of his strike bowler Lasith Malinga who will be central to his plans of ending the Test series against India on a winning note.
Sri Lanka go into the match with a 1-0 lead, knowing a win here would not propel them to the top of the rankings. The maximum they can achieve is No. 2 behind India following the ICC's annual update. Sangakkara called on the ICC to put into place a 'more relevant and pertinent far-reaching ranking system that the present one' after his team were deprived of the chance to reach the top during this series.
"The motivation is still there to win the Test series that's the fact that we are concentrating on," said Sangakkara. "Even we didn't know about the rankings when the series started. There again has been a call for a revamped system where actually one understands what the rankings are all about and not have things change and alter, deviate in a three-year block or in a week or something like that."
"There are five days to go before anything is decided upon; No. 2 or all of this is in the future. We just want to try and win the Test match starting tomorrow. Our focus in on doing that and playing good cricket on the five days putting enough pressure on the Indians and getting 20 wickets of theirs which is not easy to do on any wicket. We'll think about that and then talk about rankings if everything goes to plan after that," he said.
Sri Lanka's chances of taking those 20 wickets received a major boost when Malinga was declared fit after recovering from a sore knee. Malinga took seven wickets in a Man-of-the-Match performance in Galle to spearhead Sri Lanka to a ten-wicket victory but was rested for the high-scoring draw at the SSC.
"Malinga is back and strong he had a good bowl today. We'll wait for an update this evening before finalizing our selection for tomorrow," Sangakkara said. "As long as Malinga is feeling fine and strong, not just physically but more importantly mentally, and if he feels that he is supported whatever happens out there in the middle by the squad, the selectors and the administration, you can get a lot out of the player. Their commitment and their focus also improve when they know that they are backed 100% to do their best on the field.
"That goes for any player junior, senior or whoever, not just Lasith. Once they know that the right atmosphere and the right environment is there to concentrate on their cricket they should fully go about their business without any fear of repercussions or even if there is an injury that they will be properly looked after having been injured playing for their country. The mental confidence improves a huge deal, it's very important for fast bowlers on tracks especially in the subcontinent that they are made to understand that what they are doing is important for their teams and their countries and that they are going to be backed 100% no matter what happens out there," he said.
Following the deadpan SSC track which turned out to be heartbreak for bowlers, Sangakkara looked forward to a more sporting wicket at the P Sara Oval. "A pretty good wicket and it depends how you play on that. Looks can be deceiving in Sri Lanka especially. Let's have a play on it and see how it goes. As long as the sides keep playing the way they played over the past two Test matches I think there will be a result.
"Once you see a wicket like that [the one at the SSC] the attitude you take into it is very important. When we were fielding our attitude was to develop as many chances as possible. We did manage to do that but unfortunately a few of those went abegging and there were a few close shouts as well. We were pretty happy with the way we created chances. The only thing is once you get 640 on the board you are almost compelled to declare. Maybe on a wicket like that next time around it might be prudent to bat into the third day and makes sure the rough created on the last day is used by the team batting first," he said.
Sangakkara said it was a privilege working with the current panel of selectors headed by Aravinda de Silva. "They are very experienced and they also have the right mindset about Sri Lanka cricket and Sri Lanka cricketers. Once you know a player it become easier to handle them. Especially with fast bowlers we must understand that they are going to break down but we also expect full commitment from them when they are fit. They are committed to play 100% for Sri Lanka and if something untoward occurs while playing for the country they are backed and supported 100% beyond that and everything is done to bring them back into the fold. I am great believer in the attitude of Sri Lankan cricketers. They have been fantastic. They work the hardest out of nearly all the world cricketers and it has brought us upto a certain level of competence," he said.
Latest Headlines in Sri Lanka