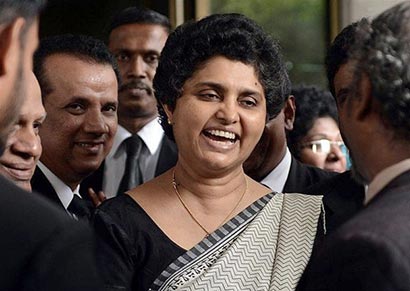 The Parliamentary Select Committee (PSC) which probed charges against the Chief Justice has found her guilty of three out of the first five charges contained in the impeachment motion and investigated by the committee.
Chief Justice Dr Shirani Bandaranayake has been found guilty of the 1st, 4th and 5th charges in the impeachment while there is insufficient proof on the 2nd and 3rd charges, said Chairman of the PSC, Minister Anura Priyadarshana Yapa.
Therefore all other charges, in the impeachment for her removal from office based on 14 charges of private and professional misconduct as the top judge, have been disregarded, he said.
As three out of five charges have been proven it is sufficient to impeach the Chief Justice, said Minister and a member of the impeachment panel Nimal Siripala de Silva, speaking at a special press briefing at the Parliamentary Complex today.
Charge No.01 states that Dr Shirani Bandaranayake had purchased property from Trillium Residencies belonging to the company that was known as Ceylinco Housing and Property Company, referred in the list of property in the fundamental rights case under her court and serving as the presiding judge of the benches hearing the said cases.
The PSC, under charge No.04 has also found the Chief Justice guilty of failing to declare the details of more than twenty bank accounts maintained in various banks including nine accounts in NDB Bank.
According to charge No.05 Bandaranayake is accused of acting in a bias manner regarding cases pertaining to her husband, Pradeep Kariyawasam a suspect in relation to legal action initiated at the Magistrate's Court of Colombo in connection with the offences regarding acts of bribery or corruption.
The committee looking into the allegations against the country's first woman Chief Justice on Saturday presented its report to the Parliament.
The PSC report was submitted despite opposition members walking out of the PSC on Friday calling it a hurried process. Bandaranayake herself and her lawyers walked out of the proceedings on Thursday.
Speaker Chamal Rajapaksa had informed Parliament that the report will be taken up for debate in one month's time,in accordance with the Article 78 of the Standing orders of the Parliament.
It was not immediately clear if Bandaranayake has to step down effectively from now or has to wait until parliament debates the impeachment investigations in January.
Courtesy: Ada Derana