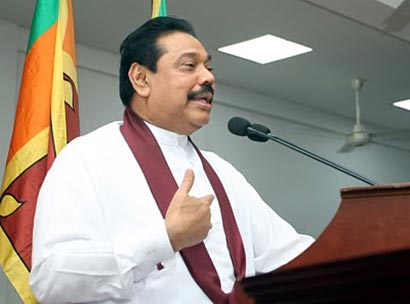 President Mahinda Rajapaksa said that everyone is duty-bound to protect children from child abuse if they are to wipe out this menace faced by the younger generation. The President was addressing the recipients of "Ranbima deeds" at Temple Trees yesterday.
Around 5,000 families, who had lived for long in government owned lands received Ranbima deeds from the President. The event was organized by the Land Reform Commission (LRC).
Addressing the gathering, President Rajapaksa said that receiving ownership of a plot of land is a significant moment for anyone. According to the Mahinda Chinthana, the policy statement of the government, it had been scheduled to offer land ownership to one million landless families. Although the one million set target has already been achieved, the President said.
The President noted that it is the prime responsibility of people to get the best use of their lands. Regarding achieving self-sufficiency in food, the government is carrying out out several programmes and projects including the Divi Naguma programme.
As a result of these agriculture sector development initiatives Sri Lanka is self sufficient in rice, which had been imported for decades. Besides, a considerable amount of maize production is exported today.
Moves have been taken to increase milk production aiming to gain self-sufficiency in milk. The land recipients should also contribute to this national task to increase food production, the President said.
Land value is increasing significantly owing to the ongoing infrastructure development. Access roads to lands are constructed while electrification and water supply projects are implemented under the infrastructure development activities of the government.
The President requested them to manage their lands' productively to simultaneously enhance their livelihoods and increase contribution to national agricultural output.
The President urged recipients of land deeds to cultivate more local crops in their lands to meet both their needs and that of the country's.
He said that it was the late Sirimavo Bandaranaike and Hector Kobbekaduwa who had initiated the distribution of state land among the landless people of the country. However, the LRC is conducting the distribution of state land among the landless in an organized manner, he added.
Commenting on the child abusing incidents reported recently, the President said that the young generation should be protected and safeguarded from child abuse. Everyone has a responsibility to on protect children since it is a national task. Development will be of no without protecting the future generation.
"In this regard, parents have to play a vital role. They have to have a keen eye on their children and prevent from engaging in mischievous activities" President Rajapaksa noted.
Ministers Rajitha Senaratna, Wimal Weerawansa, Parliamentarian JRP Sooriyapperuma LRC Director General Harigupta Rohandeera and LRC Chairman Nimal G Punchihewa also spoke. Parliamentarians Kamala Ranatunga and V K Indika were also present.
Courtesy: Daily News