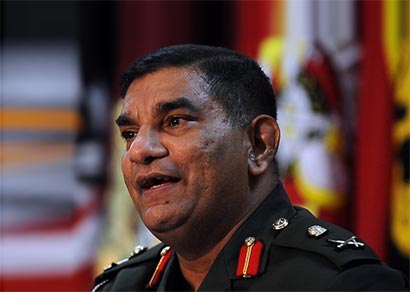 Army Commander Jagath Jayasuriya said that unlike some of previous commanders he always listens to everyone who comes to him.
Addressing senior officers at the Army Headquarters yesterday the Army Chief said, "Unlike some of former Commanders, I always listen to everyone who comes to me. I used to listen to their viewpoints and be sensitive to their pulses. 'I am always approachable."
The army headquarters in a statement quoting the Commander also said that there was no severe breach of discipline reported among the troops in the past couple of year. "… a factor that all of us can be happy and proud of. It is you who all made these projects possible and effective with the support you received from your ground troops. We must strive hard to sustain that record,' the Commander quipped.
Recapitulating all what the Army has been doing since he took office after humanitarian operations brought about the culmination of terrorism, the Commander spelt out the series of progressive projects that had so far been undertaken and successfully performed, it said.
He recalled the ever-growing friendly ties with foreign Armies on Army to Army basis and close relations that exist. Those relations are the most recognized during my tenure of office.
Courtesy: DM Online