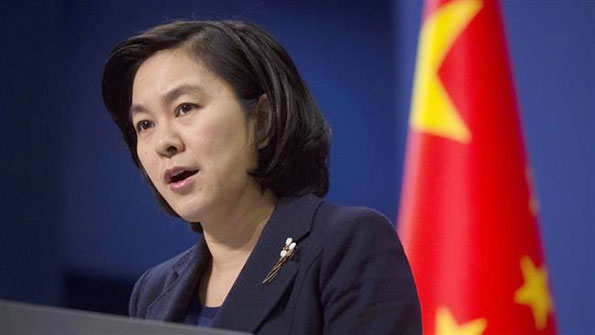 Refuting allegations of pressurising Sri Lanka with huge loans to lease out the loss-ridden southern port of Hambantota, China today said the agitation against its industrial zone is a result of "misunderstanding".
"Small-scale protest that took place recently was result of local people's misunderstanding of the policies of the Hambantota port project," Chinese Foreign Ministry spokesperson Hua Chunying told reporters here, replying to a question whether China was forcing Sri Lanka to offer concessions because Colombo owes a lot of money to Beijing.
Last month, there were reports that Sri Lanka will lease out Hambantota port to a Chinese firm in January, raising USD 1.12 billion to help pay off mounting debts.
"China has never and will not ask the Sri Lankan side to give permits only to Chinese companies in Hambantota port industrial zone," Hua said, adding that the protests by locals was due to misunderstanding and that the Sri Lankan government itself has clarified.
"Chinese companies adhere to the principle of willingness, equality and mutual benefit and as engaged in negotiations on the Hambantota port project based on market principles and the purpose is to play a role for the long term development of Hambantota port and Sri Lanka," she said.
According to recent reports, loans for various projects obtained by Sri Lanka since the time of its pro-China President Mahinda Rajapaksa amounted to over USD eight billion and Colombo was finding it difficult to repay them.
The present Sri Lankan government headed by President Maithripala Sirisena recently agreed to give 80 per cent stake in the Hambantota port built by China for about USD 1.1 billion on 99-year lease.
Local people resorted to protests over plans to evict them for Chinese industrial zone.
Reports from Colombo said Sri Lanka is negotiating the sale of stakes in other projects as well to China.
(PTI)