China offers over $1 bln in grants to Sri Lanka after port project halt
Posted by Editor on April 2, 2015 - 8:36 am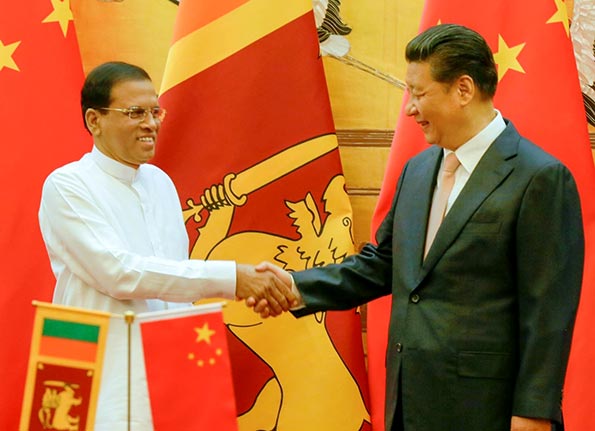 China has pledged over $1 billion in new grant money to Sri Lanka after a Chinese luxury real estate project in the capital Colombo was suspended, a Sri Lankan government spokesman said on Wednesday.
Chinese companies building a road in a Colombo suburb have also agreed to cut the cost of the $520 million project by 30 billion rupees ($225.73 million), said spokesman Rajitha Senaratnehe, reporting on the results of President Maithripala Sirisena's visit to Beijing last week.
The package comes during a cooling period in relations between Sri Lanka and China, the nation's biggest investor, after Sirisena came to power in January and began to rebalance the previous government's foreign policy tilt toward China.
China has poured millions of dollars into Sri Lanka's infrastructure since the end of a 26-year civil war in 2009, when Colombo was largely shunned by Western investors because of its human rights record.
Sirisena traveled to China just weeks after his government halted a $1.4 billion port city project that had been inaugurated by Chinese President Xi Jinping during a visit in September. He cited a lack of government approvals.
The move has strained ties with Beijing, which says the port project is in line with local laws and has warned that any cancellation would deter foreign investors.
Senaratne said the Chinese delegation offered the new grants without any conditions on the fate of the port city project.
"Xi Jinping and his officials did not mention anything about the port city during the discussion," Senaratne told reporters.
"But President Sirisena explained that it will be looked into after considering the issues related to environment, legal, land ownership, and national and regional security."
Under the port city plan, 108 hectares of land next to the main commercial port of Colombo would be taken over by China Communications Construction Co Ltd, including 20 hectares on an outright basis and the rest on a 99-year lease.
India has raised security concerns over the Chinese land ownership as it uses the Colombo port for most of its trans-shipment. Those concerns were aggravated by the docking of Chinese submarines in Colombo last year.
Senaratne said Xi told Sirisena during the visit that if any issues arise related to the region, China is willing to discuss them trilaterally with both Sri Lanka and India.
(Reuters)
Latest Headlines in Sri Lanka