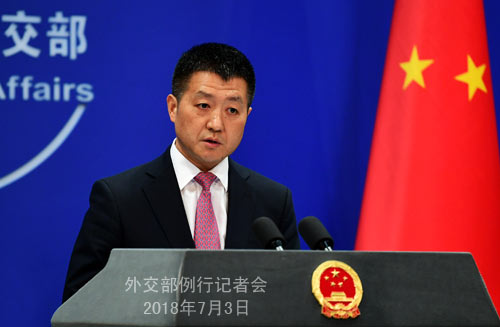 A Chinese foreign ministry's spokesperson Tuesday rejected some media reports that China harbours military intentions by constructing Hambantota Port in Sri Lanka.
"The relevant reports, which are a gross distortion of facts, are either irresponsible or engineered by people with ulterior motives," Lu Kang commented while responding to a question during his media briefing held in Beijing.
The spokesperson hoped that the relevant media would not be so obsessed with fake news as the construction of the Hambantota port represented the aspiration of the successive Sri Lankan governments and its people.
He said China encouraged the relevant Chinese enterprises to conduct cooperation on that project with Sri Lanka in accordance with the business principles and on the basis of equality and mutual benefit.
The Chinese financial institutions, in light of the needs of the Sri Lankan side, provided support for it to bridge the financing gap, he added.
Lu Kang said with the advancement of the project, China adjusted the assets allocation against all odds according to the aspiration of the Sri Lankan side. "These moves are all conducive to our commercial cooperation."
He said as to the people, who fabricated the lie of the so-called "debt trap", if they are unable to offer tangible assistance to the developing countries, they can at least try to put the sincere cooperation between other countries in perspective.
"I can tell these people that China and Sri Lanka will stay committed to advancing the cooperation on the project of the Hambantota Port in a bid to make Sri Lanka the logistics hub of the Indian Ocean," he said and added, it will not only fuel the economic growth of Sri Lanka but also contribute to regional connectivity as well as the common prosperity of the regional countries.
Lu made the remarks after a New York Times story on June 25 said China got Sri Lanka to "cough up" Hambantota Port by using "a debt trap".
The Chinese-built Hambantota Port is a deepwater facility in Hambantota district of Sri Lanka's Southern province.
Last July, China Merchants Port Holdings and the Sri Lanka Ports Authority signed an agreement valid for 99 years giving China a 70 percent stake in two joint ventures that will take charge of the port's commercial and administrative management operations.