China remained a true friend to Sri Lanka – Defence Secretary
Posted by Editor on July 26, 2023 - 9:00 am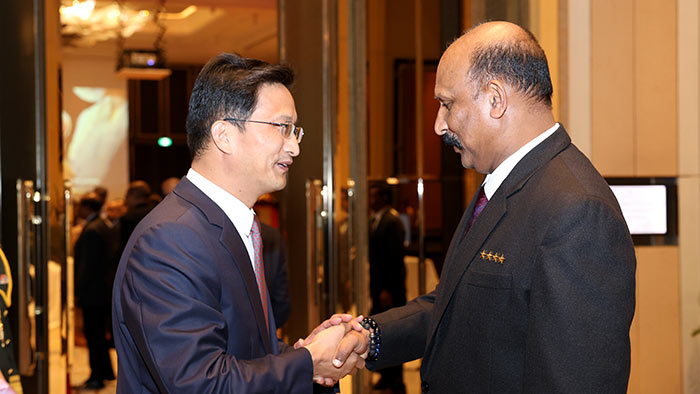 When baseless allegations were raised on the international platform, China remained a true friend, Defence Secretary General Kamal Gunaratne said.
Defence Secretary General Kamal Gunaratne made these remarks while speaking at a ceremony held to celebrate the 96th Anniversary of the founding of the People's Liberation Army of China, on Monday (July 24).
Recalling the long standing friendship between the two countries, General Gunaratne said that "our countries have shared strong diplomatic ties and have cooperated in various fields, particularly in defence and security".
Both Sri Lanka and China value peace and stability in the region and the world at large, he said the armed forces of both nations play a vital role in upholding this commitment, ensuring the safety of our people, and contributing to regional and global security.
Ambassador of China H. E. Qi Zhenhong received the Chief Guest of the occasion, Defence Secretary Gen. Gunaratne and Chithrani Gunaratne on their arrival at the Shangri La hotel, Colombo last evening.
"The PLA's remarkable journey from its inception to its current form as a modern and formidable force is a testament to China's determination to safeguard its sovereignty and promote regional stability", he went on saying.
He expressed gratitude to China for its solidarity and assistance during the conflict.
"Their unwavering commitment to our nation's well-being played a pivotal role in our journey towards peace and stability" he added.
Ministers, Parliamentarians, Chief of Defence Staff, Tri Forces Commanders, Chief of National Intelligence, former military Commanders, Military Liaison Officer of the MOD, Chinese Defence Attache Senior Col. Zhou Bo, members of the diplomatic community and senior tri forces officers were also present at the occasion.
Latest Headlines in Sri Lanka