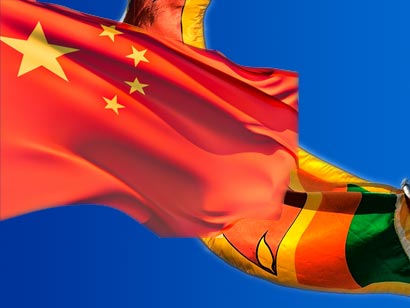 BEIJING: China will suffer heavy losses if the new Sri Lankan government halts the $ 1.5 billion Colombo Port city, bringing to fore the need for restraint in India-China competition in economic sector in small countries, an official daily said here today.
"The Chinese side will suffer heavy losses if the $ 1.5 billion project that started in September is halted. Given similar cases in Myanmar, this has triggered many concerns domestically," state-run Global Times said in its first editorial after the defeat of pro-Beijing Mahinda Rajapaksa by Maithripala Sirisena who promised more balanced foreign policy and review all China-aided projects.
"The West and many Asian countries are willing to see such uncertainties arising between China and Sri Lanka. India particularly has its own doubts since it always considers Sri Lanka as within its sphere of influence", it said.
"Many recent reports referred to the docking of a Chinese submarine in Colombo in September, indicating that the move by the new President may suggest a change in the geopolitical landscape in the Indian Ocean", it said.
"These uncertainties may prove true since the implications of the latest power shift in Sri Lanka will likely exceed those in a European country or the US".
"But they are not necessarily subversive for a China-Sri Lanka relationship that is built on a sound practical basis and can transcend the power shift", it said.
With a power transition, observers say this poses challenges to the Sino-Sri Lankan ties and particularly to the mega projects planned by the two sides, it said.
Sri Lanka said last week that it would review the construction of a Chinese-backed port close to Colombo, citing issues over transparency in the contract and environmental reasons, it said.
But the new government also said the reassessment does not indicate a cancellation of the project, and construction can resume if the review finds no fault, the editorial said.
Years after the civil war, Sri Lanka is in urgent need of comprehensive economic development, which makes China an irreplaceable partner given its infrastructure capacity and mature manufacturing industry, it said.
"While China is advancing the 21st Century Maritime Silk Road strategy, Sri Lanka intends to become a shipping hub on the Indian Ocean", it said referring to Rajapaksa endorsing the Silk Road plan despite reservations from New Delhi.
"Competition between China and India in Sri Lanka is not exclusive or confrontational. All sides have learned to keep the necessary restraint in politically interfering with competition in the economic sector," it said.
"As to whether China has been too aggressive in pushing investment in Sri Lanka, the answer will lie in the development of the bilateral relationship in future years. As long as political development in Colombo is logical, China's investment will not be in vain," it said.
"Chinese people that are willing to risk the new world are brave. When things don't pan out, they deserve more encouragement from us since they are taking on the most challenging share of China's rise", it said.
(PTI)