Sri Lanka prime minister vows democracy after authoritarian past
Posted by Editor on January 21, 2015 - 7:22 am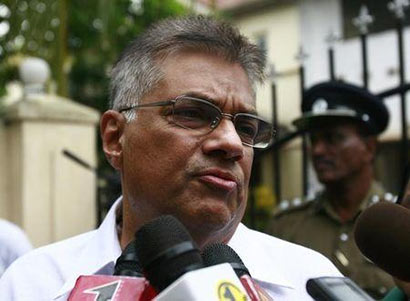 Sri Lankan Prime Minister Ranil Wickremesinghe on Tuesday said the new government will restore democratic checks and balances after a decade of increasingly authoritarian rule under former president Mahinda Rajapaksa.
Under Rajapaksa, Sri Lanka lost the support of Western governments and India and was increasingly reliant on close ties with China, which did not question his steady strengthening of presidential power and the diminishing role of parliament.
Riding a wave of popularity for winning a 26-year war against Tamil Tiger separatists in 2009, Rajapaksa amended the constitution to remove a two-term limit and abolish independent commissions for elections, the police, judiciary and public service.
"We will replace the present executive presidency with a government which will exercise executive power with cabinet and parliament," Wickremesinghe told parliament, in a speech laying out the new government's 100-day programme.
Wickremesinghe, 65, said the constitution would be amended to give powers to independent bodies that will act as watchdogs over the judiciary and other public bodies, a move to limit presidential authority.
The new government will abolish Rajapaksa's 2010 amendment and enact a Right to Information Act and a National Audit Act to increase transparency, after complaints that Rajapaksa signed deals worth hundreds of millions of dollars with China without informing the nation of the terms.
The constitutional amendment needs a two-thirds parliament majority. President Maithripala Sirisena, who also succeeded Rajapaksa as the chairman of Sri Lanka Freedom Party (SLFP), has secured the support of around 100 former Rajapaksa loyalists in the 225-member parliament.
Sirisena, after announcing an interim cabinet Jan. 12, said he would carry out reforms to fight corruption in the 100 days to a parliamentary election.
Delivering the manifesto promises is crucial for Sirisena's ruling coalition party members as they will seek a fresh six-year mandate through a parliamentary election after April 23.
Rajapaksa's own party members now say the former leader used his executive powers along with his bothers, Defence Secretary Gotabaya Rajapaksa and Economic Development Minister Basil Rajapaksa, in an authoritarian manner. His government oversaw fast growth and low inflation but was brought down by allegations of corruption and nepotism.
Rajapaksa has rejected the accusations.
(Reuters)
Latest Headlines in Sri Lanka