'China will support Sri Lanka to be information, telecommunication hub in region'
Posted by Editor on September 13, 2017 - 11:00 am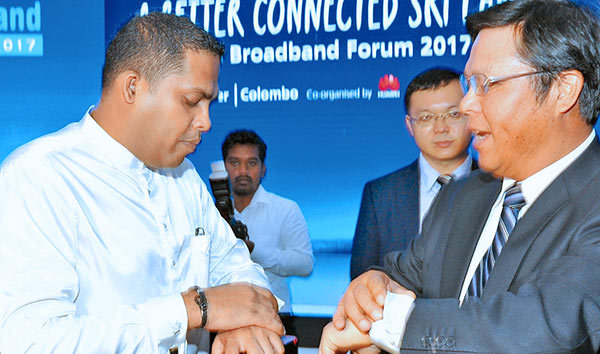 Giving a further fillip to bilateral cooperation between China and Sri Lanka, the Chinese government is planning to support Sri Lanka to be the information and telecommunication hub in the region.
To this end, the Chinese government intends to utilise a significant proportion of its donations to Sri Lanka for the development of the technology and innovation sphere in the years ahead, Chinese Ambassador to Sri Lanka, Yi Xianliang revealed.
He was speaking at the second Broadband forum, organized by the Ministry of Telecommunication and Infrastructure in collaboration with global leader in ICT Solutions, Huawei.
Highlighting the importance of developing the ICT and telecommunication sector infrastructure in Sri Lanka, the Ambassador stressed the need for more investment in the information and telecommunications industry, considering it as a priority area in order to enable digitization and fulfill the set economic goals.
"China has no hesitation to support Sri Lanka to be the information and telecommunication hub in the region," the Ambassador said.
The Ambassador, speaking on the Hambantota Port deal, emphasised that the Port will be used as a commercial port and will be open to the world.
"This is a joint venture project and the Port cannot be used by one country. We do what we can; we do what we say; most importantly, business issues should not be politicized."
"China Sri Lanka Co-operation is open, inclusive and transparent," he said.
While expressing satisfaction over the progress made by Sri Lanka in the field of information and telecommunication, he noted that the telecommunication sector should be the basis of all other hubs which include aviation, naval and maritime, knowledge, commercial and energy hubs.
According to the Ambassador, the Chinese government has disbursed Yuan 1.5 billion in aid to Sri Lanka to supplement various development projects and charities during the period 2014-2017.In addition, the Chinese government has pledged Yuan 2 billion in aid to Sri Lanka for the period 2018-2020.
The Ambassador also expressed hope that not only Huawei, but also other leading telco companies would come forward to invest in Sri Lanka's telecommunication sector to create much needed business opportunities for the benefit of involving parties and for the progress of the Sri Lankan people.
(Source: Daily News – Indunil Hewage)
Latest Headlines in Sri Lanka