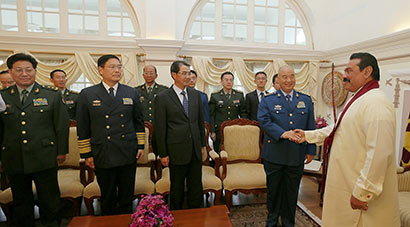 The Vice Chairman of China's Central Military Commission Air Chief Marshal Xu Qiliang called on President Mahinda Rajapaksa this evening (16) at Temple Trees. The purpose of his visit, Mr. Xu said, is to further enhance the "strategic mutual trust" between China and Sri Lanka and  to elevate "relations between the two countries and the armed forces to a new level."
Describing Sri Lanka's military as "well-trained and well-managed," Mr. Xu said that China considers military to military relations between China and Sri Lanka "a priority." He also praised President Rajapaksa for defeating terrorism and for achieving rapid post-war development.
"We all know that Your Excellency is a legendary statesman with outstanding  leadership," Mr. Xu said. "You're a great hero for defeating terrorism. We admire your success of defeating the LTTE and the rapid (post-war) reconstruction. Within a short period of five years after the war [ended], people are now living a peaceful life. People are enjoying their peaceful lives, the stability and development. It is a great achievement."
President Rajapaksa assured China of Sri Lanka's support in international and regional matters such as the One-China Policy and with matters pertaining to the South China Sea.
"I assure you our policies towards China have never changed and won't change," President Rajapaksa said. "Our position is very clear."
The President also thanked China for its assistance during the war to defeat terrorism and in the areas of infrastructure and economic development as well as support at international forums. "We must thank your Government and your people for supporting us at the UN Human Rights
Council," the President said.
Mr. Xu said it was China's objective to deepen the friendship between the two countries, pointing out that people from the two nations have interacted with each other for a very long time, dating as far back as 2,000 years.
"The cultural and emotional bond between the peoples is unbreakable," Mr. Xu said. " The friendship between our two nations can be seen from peoples' faces and felt in our hearts. Our common objective of developing our countries and bringing better lives for our people has brought us together." According to embassy officials, this is the highest military delegation from China to ever visit Sri Lanka. Mr. Xu was accompanied by China's Ambassador in Sri Lanka Mr. Wu Jianghao and a large military delegation.
Secretary to the President Mr. Lalith Weeratunga, Secretary to the Ministry of Defense and Urban Development Mr. Gotabaya Rajapaksa, Secretary to the Treasury Dr. P.B. Jayasundera, Cabinet Secretary Mr. Sumith Abeysinghe, President's Chief of Staff Mr. Gamini Senarath, Secretary of the Ministry of External Affairs Mrs. Kshenuka Senewiratne and the Commander of the Sri Lanka Air Force Air Marshal K.A Gunatilleke were also present at the discussion.
(President Media)