Chinese Embassy in Sri Lanka reminds Chinese nationals of overseas recruitment traps
Posted by Editor on April 10, 2023 - 5:13 pm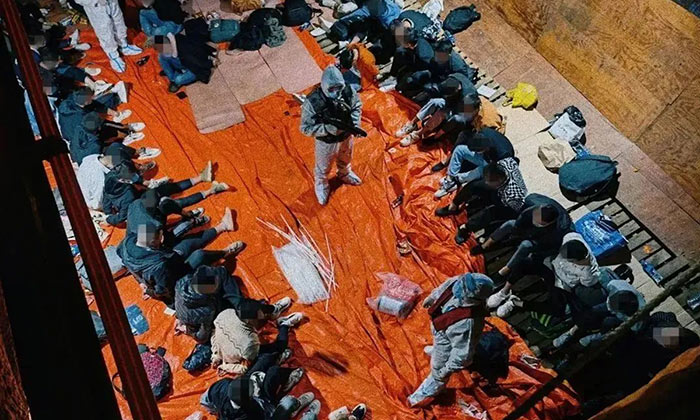 Recent cases of Chinese nationals who have been trafficked overseas with the promise of high salaries but ended up trapped in illegal activities including telecom scams and online gambling are a warning for Chinese nationals to keep a wary eye on recruitment traps overseas, the Chinese Embassy in Sri Lanka said in a notice over the weekend.
The Chinese Embassy had rescued 13 Chinese nationals who were trafficked to Sri Lanka, cut off from contacts with their families and the outside world, and forced to engage in illegal activities such as telecom scams and internet gambling, the embassy said in its media release.
The victims were subject to threats against their lives and suffered physical abuses from corporal punishment and torture when they failed to accomplish their tasks or when they attempted to escape, the embassy said.
According to the Criminal Law of the People's Republic of China, victims involved in overseas telecom scams will most probably face punishment even if they were coerced into committing the crime, Zhao Guohua, lawyer and co-founder of Beijing Mingji Law Firm, told the Global Times on Sunday, noting that the criminals use job opportunities as bait to lure some young Chinese people who are under great employment pressure.
The Chinese Embassy in Sri Lanka quickly coordinated with local police to carry out rescue operations upon learning of the situation, captured key members of the telecom fraud gang and the suspects involved in illegally harming and detaining the victims, and successfully rescued the 13 Chinese nationals who were trapped by the scheme after they believed the so-called high salary, low threshold, short working hours, and enjoyable traveling welfare and other overseas job recruitment information.
A similar rescue operation was conducted by the Chinese Embassy in Myanmar on Thursday with a Chinese national smuggled into Myanmar and forced to engage in telecom fraud rescued.
In recent years, online gambling and telecom fraud have caused social problems in Southeast Asian countries such as Myanmar, Thailand and Sri Lanka, with some Chinese nationals falling victims to murder, kidnapping and human trafficking. Some people are lured to overseas by the promise of high salaries.
A major human trafficking case was disclosed on Friday by the general border inspection station for entry and exit of South China's Guangxi Zhuang Autonomous Region under the National Immigration Administration.
Police announced the dismantling of a large-scale trafficking gang that organized Chinese nationals to leave the country illegally by sea to engage in transnational criminal activities.
A total of 108 suspects from the gang were apprehended including 69 punished with prison sentences ranging from nine months to eight years and fines between 5,000 Yuan and 200,000 Yuan ($29,093).
The criminal gang posted the so-called recruitment advertisements on Chinese social media offering highly paid overseas jobs and promising to reimburse all travel expenses to lure potential job-hunters into traps.
One gang member said that it would promise a monthly salary of between 8,000 Yuan and 16,000 Yuan, even up to 20,000 Yuan.
Border police have reminded the public to stay vigilant and make sure to go overseas for work through a regular and legal labor agency. They should not believe recruitment ads that promise high salaries and benefits, which can not only endanger personal safety but also lead to crimes.
(Source: Global Times)
Latest Headlines in Sri Lanka