Chinese Govt. should see whether its equipment is used in wire tapping here: Mangala
Posted by Editor on March 5, 2012 - 7:13 am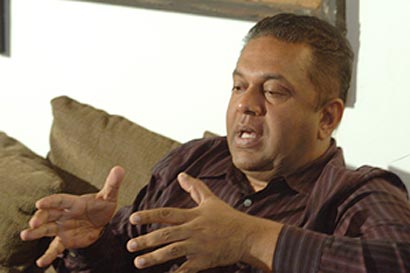 UNP Matara MP Mangala Samaraweera who recently revealed in Parliament that equipment imported from China is being used to tap telephones and hack into peoples personal e-mails said he hopes the Chinese government would look into the concerns raised by th UNP.
"We established diplomatic ties with China in the 1950s and successive governments have maintained good relations. If by any chance Chinese companies are involved in this sort of activities it's an onslaught on our democracy. The Chinese Government owes it to the Sri Lankan people to investigate and take some action in this manner,' Mr.Samaraweera told the Sunday Times.
The UNP MP alleged that the expertise and the technology needed for these operations have been provided by two Chinese companies; Huawei and ZTE but said he is unaware if the two companies know that the equipment they provide is being used to carry out surveillance on people.
Mr.Samaraweera charged that the Defence Ministry along with the Telecommunications Regulatory Commission (TRC) which now comes under the President are engaged in monitoring mobile phones of over 687 persons on a regular basis and among these are the 54 members of the governing party including senior Ministers of the Cabinet and three Chief Ministers, members of the clergy, leading business personnel and several newspaper editors and many journalists.
The UNP MP added that while monitoring telephones and the internet has become standard practice in many countries waging war against international terror, such practices are controlled by stringent laws and regulations which ensure that such laws are not abused by using it against democratically dissenting voices or against the opposition.
"The interception of telephone calls as well as the monitoring of the internet including e-mails has reached epidemic proportions. Also using the latest technology, websites which expose the waste and corruption of the regime are hacked into and blocked," he said.
The UNP MP said that in all other countries this will cause a national scandal. "The Government is yet to respond to my allegations. Its silence to me is an admission of guilt." TRC Director General Anusha Palpita was out of the country when the Sunday Times tried to contact him for a reaction to the allegations.
Courtesy: ST Online
Latest Headlines in Sri Lanka