Chinese president meets Sri Lankan PM on relations
Posted by Editor on April 9, 2016 - 3:07 pm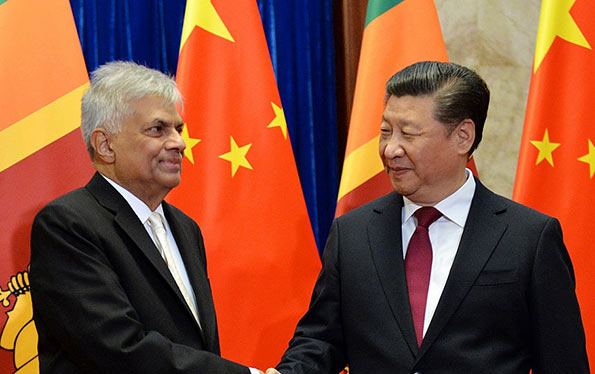 Chinese President Xi Jinping met with visiting Sri Lankan Prime Minister Ranil Wickremesinghe in Beijing on Friday.
Xi spoke highly of the long-term friendship between the two countries, and their support to each other on issues of core interests and major concern.
China is willing to work with Sri Lanka to consolidate traditional friendship, expand reciprocal cooperation, and push forward strategic partnership of cooperation to a new high, Xi said.
He urged the two countries to integrate development strategies, maintain high-level exchanges, strengthen strategic communication, handle bilateral relations from a long-term and strategic perspective, and map out top-level designs for bilateral ties and cooperation in various fields.
Wickremesinghe echoed Xi saying the strategic partnership of cooperation featuring sincere mutual support and long-lasting friendship is in the interests of both Sri Lanka and China. It is also a consensus of all political parties in Sri Lanka.
He appreciated the positive role played by China in promoting global economic stability and growth, and thanked China for its long-term assistance to Sri Lanka.
With regard to bilateral cooperation, Xi said the two countries should take the Belt and Road Initiative as an opportunity to deepen cooperation in terms of trade, infrastructure, industrial parks, manufacturing, production capacity, technology, and ocean.
China will positively consider helping Sri Lanka build health projects and is ready for more cooperation in areas such as tourism, education and culture, Xi said.
He also vowed to strengthen communication and coordination with Sri Lanka under the frameworks including the United Nations, the ASEAN Regional Forum and the South Asian Association Regional Cooperation (SAARC).
Wickremesinghe said Sri Lanka will actively participate in the Belt and Road Initiative, strengthen cooperation with China in port and airport construction, trade, investment, transportation and technology, and increase cultural and people-to-people exchanges.
He said Sri Lanka is willing to strengthen cooperation with China within the SAARC.
Arriving in Beijing on Wednesday night, Wickremesinghe will conclude his official visit to China on Saturday. (Xinhua)
Latest Headlines in Sri Lanka