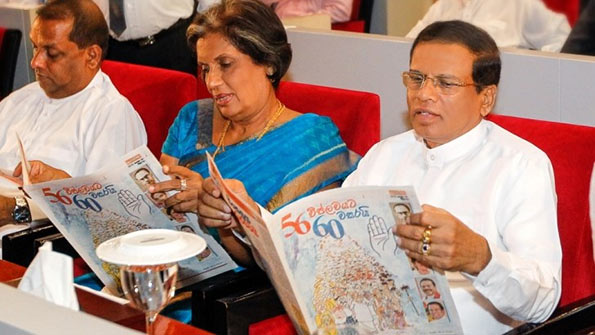 "Though some people are accusing me stating that I created a government together with the UNP by defeating the SLFP, what I did was to defeat the system which is not suitable to the country by bring in a new system ", says President Maithripala Sirisena.
"It was the former President Mahinda Rajapaksa who came to agreements with the UNP, much before I established a unity government together with the UNP", he added. The President stated that when the agreement between the former president and the UNP was not successful, Mr. Mahinda Rajapaksa built a government by taking 27 UNP leaders to the government, giving them ministries.
"It was not ethical in my political philosophy. Therefore, I am taking the country forward by connecting the main political parties together while protecting the agreement signed as the SLFP in November in 2014", he further stated.
The President was speaking at the 60th anniversary of the people's victory of 1956 of the SLFP was held yesterday (April 08) at the BMICH.
"As the politicians belong to the 1956 era, we give the prominence to the country and the people. I will be committed to protect the SLFP by strengthening it according to the philosophy of Sir S. W. R. D. Bandaranaike", he said.
The President also declared open the special art exhibition organized in line with this celebration.
Minister of Posts Abdul Haleem Mohammad presented a special souvenir stampissued to mark this occasion, to the President at this occasion.
Religious leaders including Maha Sangha, Former President Mrs. Chandrika Bandaranaike Kumaratunga, General Secretary of the SLFP Minister DumindaDissanayake, General Secretary of the UPFA Minister Mahinda Amaraweera and the Former Prime Minister D. M. Jayarathnewere among those participated in this occasion.
(President's Media)