CHOGM vehicles to be given to ministries
Posted by Editor on December 8, 2013 - 7:30 am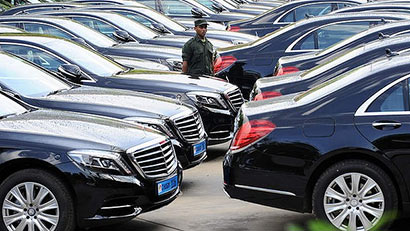 Minister of External Affairs, G.L. Peiris, breaking the silence over the vehicles imported for the Commonwealth Heads of Government Meeting (CHOGM) said the vehicles will be used by the ministries.
"The Budget allocated funds to different ministries to purchase vehicles and there was CHOGM money too for the purchasing of luxury vehicles. Accordingly, we have decided that some of the vehicles that were imported by the ministries should be given to those ministries, once they were used for CHOGM," the minister pointed out at the Forum organized by the Organization of Professional Associations of Sri Lanka on Friday, to debrief on CHOGM.
When the minister was asked why the police have been given the Defenders imported for CHOGM without selling them, the minister questioned, "What is wrong with that? Aren't they protecting you and me?"
According to the information received by Ceylon Today, many of the vehicles used by the police are under repair and the CHOGM Defenders would replace the broken down police vehicles. "Vehicles break down over time. So, replacing them with new Defenders is not a crime. We don't have to apologize to anyone as there is a genuine need to give away the vehicles to the police. It's for our country. There is nothing wrong in giving the vehicles to the politicians. Some of the vehicles will be given to perform productive tasks and the rest will be auctioned and sold. What is wrong with that?" he questioned.
He also said the figure quoted by the opposition as the total expenditure of CHOGM, which is Rs 15.8 billion, is incorrect asked how to host an international event without spending money. "We get material benefits and all sorts of other benefits directly and indirectly and how can we not spend? We cannot hold a CHOGM without spending money. We have to spend. This way of computing the expenses are totally wrong. "In every budget, we allocate money, for instance to the Board of Investments (BoI), to travel widely to attract foreign investors. However, this year, that money was not spent in that way, because 1,400 foreign investors and business community leaders were present here for CHOGM Business Forum. All that money spent on tours were spent on the biz forum.
"Nothing about cars and other expenses should affect CHOGM. Yes, we spent money, but look at the good things that have happened. Look at the image Sri Lanka built up after many came and saw for themselves the development we have achieved. The critical part is countering the negative propaganda. We need decent cars for VIPs. "We have nothing to hide or run away from. We endorse everything we did with full of pride."
(Courtesy: Ceylon Today)
Latest Headlines in Sri Lanka