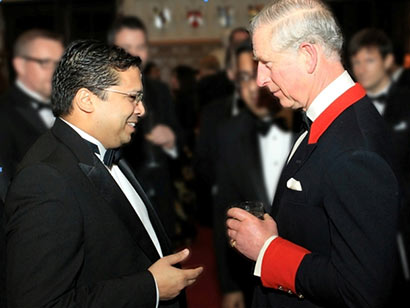 Submitted by Walter Jayawardhana
HRH the Prince of Wales, President of the British Asian Trust, announced the new appointments to the British Asian Trust's Advisory Councils, at the 5th anniversary dinner of the Trust, held at Windsor Castle on Monday 11th February. Mr Mukesh Ambani – Managing Director and Chairman of Reliance Industries, was appointed to head the Trust's India Advisory Council, and Dr. Chris Nonis, Chairman of the Mackwoods Group and Sri Lankan High Commissioner to the UK was appointed to head the Trust's Sri Lanka Advisory Council. They join Tom Singh, OBE, founder of New Look Fashion, who heads the Trust's UK Advisory Council, and Arif Naqvi, founder and CEO of Abraaj Group, who heads the Trust's Pakistan Advisory Council.
The British Asian Trust is one of Prince Charles' charities, founded in 2007, and is dedicated to help disadvantaged communities and rural upliftment through education, health and livelihood initiatives that generate self-sufficiency. The Trust has already touched the lives of more than 800,000 people across South Asia. The Advisory Councils are intended to provide the British Asian Trust with further in-country insight and assist with their rigorous selection of future projects.
HRH Prince Charles, during his speech to an audience of over 200 at the Trust's Anniversary dinner, whilst announcing the Advisory Board appointments, said that "I am hugely grateful to Mukesh Ambani who has offered his support in India, also to Arif Naqvi in the lead in Pakistan, His Excellency Dr. Chris Nonis in Sri Lanka and Tom Singh here in the UK. We are incredibly lucky to have such important and supportive people."
Dr. Chris Nonis stated that he was honoured to have been entrusted with this role, and that his experience in Medicine, Pan-Commonwealth development issues and International Affairs, Business, and Charitable work, will assist him in helping to realise the aims of the Trust. (Courtesy: High Commission of SL in London)