CID grills Mahindananda, Sajin
Posted by Editor on February 26, 2015 - 8:23 am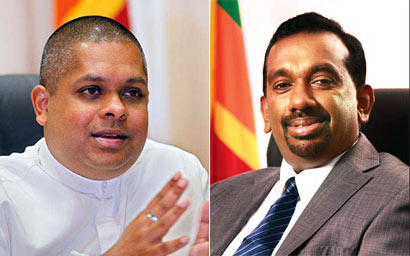 The CID yesterday recorded the statements of the former Monitoring MP of the External Affairs Ministry Sajin de Vas Gunawardane and former Sports Minister Mahindananda Aluthgamage over corruption charges made against them by Voice against Corruption (VaC), an organization spearheaded by JVP Provincial Councillor Wasantha Samarasinghe, it is learnt.
Mr. Gunawardane told Daily Mirror yesterday that he was interrogated from 9.00 am till 1.30 pm by the CID, and had been asked to appear before them again next week for further questioning. Additionally, he said the Bribery Commission too had asked him to appear before them next week to answer questions about several allegations brought before them by VaC.
He said that the group VaC had complained to both the CID and the Bribery Commission against him.
"I will remain silent for some time till the investigations against me are over. I will prove my innocence. Afterwards, I will take legal action against Mr. Samarasinghe for making false allegations against me," Mr. Gunawardane said.
The VaC lodged a complaint at the Bribery Commission asking it to probe the assets of both Mr. Gunawardane and Mr. Aluthgamage. Mr. Samarasinghe, in his complaint, accused both of them of amassing wealth unlawfully during the term of the last government. He said he would see these cases to the end.
(Daily Mirror)
Latest Headlines in Sri Lanka