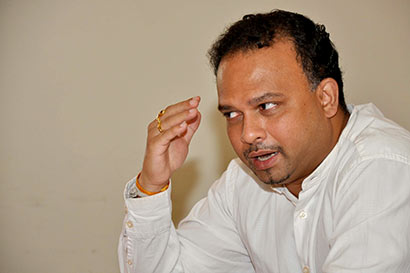 The government yesterday said that the Criminal Investigation Department (CID) would conduct an investigation into former minister Navin Dissanayake's claim that he had been offered Rs. 100 million by the government to remain in the UPFA coalition when he was about to cross over to the UNP on Sunday.
Addressing a media conference at the Sri Lanka Freedom Party head office, Public Administration and Home Affairs Minister W. D. J. Seneviratne said that President Mahinda Rajapaksa had informed them at Temple Trees on Wednesday night that he would order the CID to probe the serious allegation.
"CID would record a statement from   Nuwara Eliya District MP Navin Dissanayake regarding his statement that the government had tried to bribe him with Rs. 100 million, but he rejected the offer", he said.
"The bankrupt Sirisena alliance fearing defeat at the Jan. 08 election is spreading false stories."
A separate investigation would be conducted into the allegation that a large amount of foreign funds had been given to the Opposition," Minister Seneviratne said.
Puttalam District MP Arundika Fernando said that since Navin Dissanayake had made that statement he should reveal who had made the offer to him to the bribery commission or any other respective body to probe it.
At a separate media briefing, Irrigation and Water Resources Development Minister Nimal Siripala de Silva also challenged MP Dissanayake to reveal the names of those who had offered him Rs. 100 million to remain in the government.
Former Minister Navin Dissanayake told the media on Tuesday that the ruling UPFA offered him Rs. 100 million to stay in the government.
"If I wanted I could have asked for a higher amount than Rs. 100mn, but I rejected the offer on the spot and left the government" he said adding that they would probe all bribes under a presidential commission appointed by Maithripala Sirisena after his victory at the January 08 election.
(The Island)