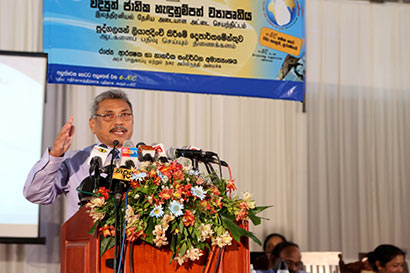 Over 827 field officers from various districts who are engaged in the process of registering of persons under the recently introduced 'e-National Identity Card' system, were awarded letters of appreciation in recognition of their dedicated service at a function held at the Folk Arts Centre premises in Sri Jayewardenepura Kotte today (4th Dec). These field officers will also be presented with motor cycles to perform their duties easily.
Secretary to the Ministry of Defence and Urban Development Mr. Gotabaya Rajapaksa, the driving force behind the new electronic persons registration project graced the event as the Chief Guest on the invitation of Mr. Sarath Kumara, Commissioner General of the Department of Registration of Persons.
As a Symbolic gesture, Mr. Rajapaksa presented Letters of Service Appreciation to several field officials during the session.
Department of Registration of Persons is one of the key government organizations that functions under the purview of the Ministry of Defence and Urban Development.
As projected in the Budget proposals – 2015 by His Excellency the President Mahinda Rajapaksa in his capacity as the Minister of Finance, this initiative was implemented under the directives of the Secretary Defence.
Speaking at the event Secretary Defence said that, this new e-NICintroduction could be considered as a sign of the existence of good governancein the country and would definitely be a vital step to thwart illegitimate practices. During the conflict period these issues had been long neglected by the previous administrations, he also said.
Recalling the unfavourable situation prevalent in Colombo few years back he reminded those present of the plight of many government institutions including the Department of Registration of Personswhich had been given high security while barricading the premises with high parapet walls and barbed wire fences. But today the situation has drastically changed he added.
Elaborating onthe practice of good governance he reiterated that the elimination of terrorism and introduction of sustainable methodologies to perform institutional duties has augmented good governance in the country.
The new ID, comprising security features against tampering, counterfeiting and forging would include the person's photograph, biometric authentication, bio data, fingerprints, and also the blood group. In an event of a natural disaster, this new e-NIC would be more practical.
Compiling data for this new ID which consist of a photograph and family details in conforming to international standards are now underway with the support of these field officials.
A progress review session presided over by the Commissioner General was also conducted during the day.
Defence Ministry Officials including Additional Secretary (Defence) Mr. S Hettiarachchi, Officials of the Department of Registration of Persons and a large gathering of field officials were present at the event.
(Ministry of Defence)