CID to question Gota after last Friday's grilling of Fonseka
Posted by Editor on January 23, 2017 - 8:09 am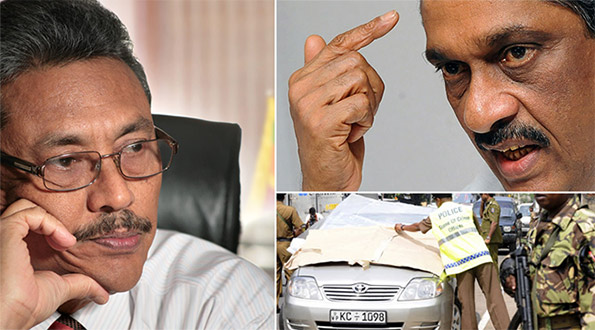 CID would soon interrogate former Defence Secretary Gotabhaya Rajapaksa on the murder of former Sunday Leader editor Lasantha Wickrematunga, Police headquarters sources said yesterday.
The former defence secretary would be questioned on the matters transpired during the interrogation of former Army Commander and Regional Development Minister Field Marshal Sarath Fonseka, who had been questioned by the CID last Friday for more than six hours, the sources said.
On the issues that surfaced from the information elicited from the field marshal, the former defence secretary Rajapaksa and several other top officials of their Joint Operational Headquarters are to be questioned.
The CID has information that Wickrematunga had been assassinated by a group of members of the Army intelligence unit. At the time of Wickrematunga's death Fonseka commanded the Army and Rajapaksa was the defence secretary. A senior official of the army intelligence unit is being detained and questioned in connection with the murder probe.
A retired sergeant of the army intelligence unit committed suicide last year by hanging himself after writing a letter accepting the responsibility for the killing of Wickrematunga.
(Source: The Island – By Hemantha Randunu)
Latest Headlines in Sri Lanka