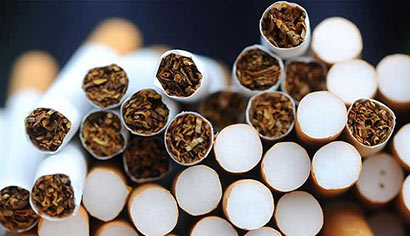 Minister of Health, Rajitha Senaratne said that with the approval of 15 per cent VAT, the price of a cigarette is expected to rise to Rs. 55. This has been subject to public debate. Some argue that such a drastic price-hike would coax consumers into using inferior forms of tobacco such as beedi, a crude native cigarette which may be even worse than the traditional forms of tobacco abuse.
Public opinion
Mohamad Muthaliff (29) from Kolonnawa commented that no matter how high the price increases if people need to smoke they will do irrespective of the cost. He said he would do the same.
"I am still going to continue smoking the same brand. The number of cigarettes smoked per day might decrease," said Sarath Jayasinghe (54) from Kalubowila.
"If the government wants to reduce the the number of people smoking, they should stop its production," says Sujatha Dissanayake (47) from Battaramulla.
Marco David (26) from Bambalapitiya said that he might gradually end up reducing his smoking. "Because from the first hike itself, I made up my mind to stop smoking, I won't be going for any substitutes either," he claimed.
No shift to substitutes
Alcohol and Drug Information Centre (ADIC), Executive Director, Pubudu Sumanasekara said that every time cigarette prices are increased by respective governments, tobacco companies and their agents attempt to prove that due to the price increase smokers opt for other substitutes such as beedi.
"This is not the case. During the previous cigarette price increases in Sri Lanka there was no shift towards substitutes. The world over there is no research to prove that increase in the price of tobacco influences people to go for other substitutes. That's why the World Health Organization (WHO) promotes cigarette price increases," he insists.
Sumanasekera contends that tobacco companies in Sri Lanka have been manipulating existing data to prove that the consumption of beedi has increased with the rise in cigarette prices.
"There is no correlation between the increase of cigarette prices and the increase in beedi smoking. The tobacco industry is using the media to support their claim," he declared.  According to Sumanasekera, the existing empirical evidence show that when cigarette prices are increased, the initiation rate lowers. Also, smokers are highly encouraged to quit.
"The WHO treaty, Framework Convention on Tobacco Control, highly recommends increase of cigarette prices by increase of taxes, especially for developing countries. If the company increases prices, the profits would drain into developed countries via tobacco companies, this is why taxes are imposed instead," he said.
Price hike encourages quitting
According to Sumithrayo Mel Medura team leader Prasad Gunawardhana, the people who presented themselves for counselling to reduce smoking realized the actual amounts they spend on cigarettes.
"These people are mainly from low income families. They only earn about six hundred to seven hundred rupees per day. Some of them smoke up to 10 cigarettes per day. We calculate and show them that more than half of their daily wage is spent on smoking. This itself makes them reduce the number of cigarettes without further therapy," said Gunawardena.
Chairman of the National Authority on Tobacco and Alcohol (NATA) Dr Palitha Abeykoon said that by increasing cigarette prices, the expectation is not for all the people to give up smoking.  "Generally, with a 10 per cent increase in taxes two to four per cent of the smokers quit within a year. These are mainly from the lowest income segments and adolescents. It has been found that taxes are the most effective method of combating smoking," he contended.
According to research, global tobacco epidemics kill nearly six million people every year, of which more than 600,000 are non-smokers due to second-hand smoking.
According to WHO Steps Survey Sri Lanka 2015, 10.2 per cent of adults aged between 18 to 60 years smoke tobacco daily. Of these 82.4 per cent of the daily consumers, smoke refined cigarettes. On average they start smoking at 20.7 years. Cigarettes contain 4,000 chemicals 43 of which are confirmed carcinogens such as Formaldehyde, Benzene and Hydrogen cyanide. Contrary to popular belief, tobacco smoke is harmful not only to lungs, although it is the cause of 95 per cent of lung cancer. Cigarette smoke damages the eyes, is a major cause of peptic ulcers, gastric ulcers and damages the pancreas. It also causes conditions such as angina, asthma and damages the heart, nervous system and causes sexual impotence. Passive smoking is the leading cause of still birth.
Tobacco is the leading preventable cause of death and one of the four risk factors for
Non-Communicable Diseases, the other three being improper diet, physical inactivity and excessive alcohol consumption.
According to a study by the ADIC, the consumption of cigarettes shows an increase from 3.571 billion in 2014 to 3.932 billion in 2015. This means almost one million more cigarettes per day were consumed in 2015, compared to 2014.
From 1980 to 2000, a person could have purchased an average of 9,680 cigarettes with the total income. By 2015, this has almost doubled to 17,346 due to lack of price adjustments after the year 2000.
(Source: Nation.lk – By Dimuthu Attanayake)