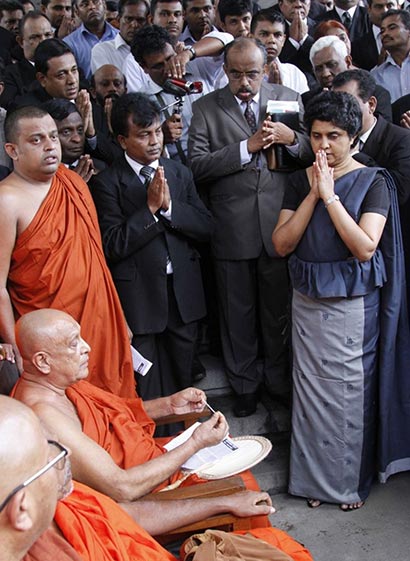 Courtesy: News First / Pix by Reuters
Chief Justice Dr. Shirani Banaranayake arrived at the Parliamentary Complex this morning to once again appear before the Parliamentary Select Committee examining the impeachment motion brought against her.
Chief Justice Shirani Bandaranayake left the Supreme Court Complex at around 9.45 this morning to appear before the Parliamentary Select Committee.
Before her departure she engaged in religious activities.
Our court correspondent noted that venerable Maduluwawe Sobhitha Thera invoked blessings on the Chief Justice.
According to our correspondent, members of the legal community had gathered in the Supreme Court premises to express their solidarity with the Chief Justice.
Members of the clergy also engaged in a Sathyagraha.
Another group of protesters who had gathered outside the court complex demonstrated against the Chief Justice and in support of the impeachment.
Meanwhile, a large crowd had gathered near the parliamentary complex disrupting vehicular movement along Parliament Road.
The chief justice arrived at the parliamentary complex at around 10.10 a.m.
Pix by Reuters