Like King Kekille's times – Sobitha thera
Posted by Editor on December 5, 2012 - 8:17 am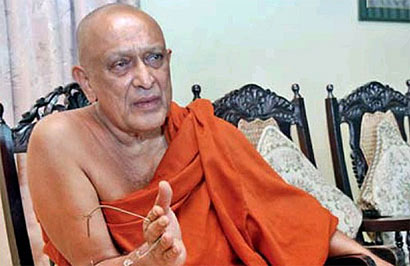 FILE PHOTO
Venerable Maduluwave Sobitha Thera, referring to the impeachment motion against the Chief Justice Shirani Bandaranayake, yesterday said that its was like the times of 'King Kekille'.
"The complainants are among the persons who are sitting in judgement. Nowhere in the world have complainants functioned as judges," he said, adding that the impeachment motion against the Chief Justice was an interference with the independence of the judiciary and should be called off even at that late stage.
A large crowd had gathered along the pavements of the 'Hulftsdorp Hill', in support of the government's move to impeach the Chief Justice.
A billboard, near the roundabout, read 'the people denounce a judiciary that seeks to divide the country'. People along the streets carried posters reading: 'Shame Madam Excellency, Trillium Guilty'. Other posters said 'We need an independent judiciary'.
The gathering remained there till afternoon. Police officers in their numbers had gathered to ensure there were no traffic jams.
The protesters were mostly common people from far and near. When asked what their motive was they said that they supported the government's move to safeguard and uphold the independence of the judiciary and rid it of corrupt elements.
Most of the posters stressed that the people elected MPs and hence Parliament was Supreme and had the right to rule. The judiciary was not appointed by the people, they argued. They were there to put into action the laws approved by Parliament, which was elected by the people, the protesters claimed.
Meanwhile, religious dignitaries of various faiths too had arrived at the premises of the new Courts complex yesterday to speak on the rights of the people to have an independent judiciary.
Several Buddhist priests had gathered to perform 'Sathyakriya'.
Following Sobitha Thera's speech, Reverend Father Sarath Iddamalgoda, of the Catholic Church, said that he spoke for the people who had the right to have an independent judiciary. He said he was not there to promote the interests of any person or persons. Pastors of other Christian denominations, too expressed similar views.
Meanwhile, lawyers and judicial officers from outstations had gathered to see the Chief Justice Dr. Shirani Bandaranayake leave for Parliament to attend the Parliamentary Select Committee proceedings, scheduled for yesterday.
Courtesy: The Island
Latest Headlines in Sri Lanka