CJ steps down from Golden Key cases
Posted by Editor on November 12, 2012 - 6:19 pm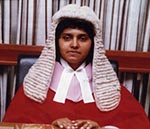 Chief Justice Shirani Bandaranayake said in open court today that she will withdraw from hearing all cases pertaining to depositors of Golden Key and Ceylinco Shriram.
Bandaranayake on Thursday denied financial wrongdoing alleged in an impeachment brought by the ruling party, vowing to remain in office and defend her innocence.
"Our client will, as always, continue to duly and properly discharge her duties without fear or favour (and) she will do so, independently, impartially and fearlessly in accordance with the law," the law firm representing her said in letters sent to media.
Among the accusations is a charge she had nine bank accounts that were not revealed in her asset declaration upon taking office in May 2011.
She is also accused of failing to declare around $250,000 in foreign currency. Bandaranayake insisted she maintained only one bank account with a few "non-operative accounts with a zero balance". She also denied she had a remittance of $250,000 in her account as alleged in the impeachment.
"She has plunged the entire Supreme Court and specially the office of the Chief Justice into disrepute," says the motion, containing 14 charges and signed by 117 ruling party lawmakers.
Two FR cases have been filed in the Supreme Court against Ceylinco Sri Ram Capital Management and Golden Key Finance Company while a fundamental rights violation application, connected to Golden Key, had been listed to be called in Court today (11) before Chief Justice Shirani Bandaranayake.
The first count of the impeachment motion against her pertains to two instances where a questionable purchase of house from Ceylinco Housing and Property and City Housing and Real Estate Company Limited and Ceylinco Condominium Limited has been made by the Chief Justice on behalf of her sister and that there is a conflict of interest by hearing cases relating to Ceylinco group of companies.
The full text of the charge related to the petitions:
"Whereas by purchasing, in the names of two individuals, i.e. Renuka Niranjali Bandaranayake and Kapila Ranjan Karunaratne using special power of attorney licence bearing No. 823 of Public Notary K.B. Aroshi Perera that was given by Renuka Niranjali Bandaranayake and Kapila Ranjan Karunaratne residing at No. 127, Ejina Street, Mount Hawthorn, Western Australia, 6016, Australia, the house bearing No. 2C/F2/P4 and assessment No. 153/1-2/4 from the housing scheme located at No. 153, Elvitigala Mawatha, Colombo 08 belonging to the company that was known as Ceylinco Housing and Property Company and City Housing and Real Estate Company Limited and Ceylinco Condominium Limited and is currently known as Trillium Residencies which is referred in the list of property in the case of fundamental rights application No. 262/2009, having removed another bench of the Supreme Court which was hearing the fundamental rights application cases bearing Nos. 262/2009, 191/2009 and 317/2009 filed respectively in the Supreme Court against Ceylinco Sri Ram Capital Management, Golden Key Credit Card Company and Finance and Guarantee Company Limited belonging to the Ceylinco Group of Companies and taking up further hearing of the aforesaid cases under her court and serving as the presiding judge of the benches hearing the said cases;"
Courtesy: Ada Derana
Latest Headlines in Sri Lanka