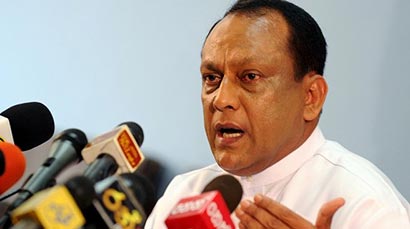 The government has made several counter programmes to defeat the attempts  by the Opposition and certain NGOs at the instigation and financing of the international forces to create unrest in the country and thereby give a boost to the attempts being made by certain western countries, the resolution against Sri Lanka at the United Nations Human Rights Commissions to start on February 27th in Geneva, and to destabilize this country similar to what they did in Tunisia, Egypt, Libya and Syria.
Acting Minister of Mass Media and Information Mr. Lakshman Yapa Abeywardene said at the Cabinet Decision Media Conference held in Colombo
The Minister said that under this programme arrangements have been made to demonstrate the people's support through organizations of Alliance political parties and other public organizations throughout the country on an electoral basis.
"Express solidarity with the government and condemn attempt to interfere on Sri Lanka's internal affairs by external forces by gathering on the streets of Colombo and other places on Monday 27" the clarion call from the leading ministers of ruling UPFA government of Sri Lanka implies.
Minister Yapa said these rallies will be held in a main town in each electorate and the main rally will be held centering Colombo.
He said that this mass rally will be followed with several other events until the New Year celebrations in April.
Accordingly, on 10th March the "Divi Neguma" community development programme will be started.  This programme will cover all the 14,000 Grama Niladhari Divisions and a sum of Rs. 1 Million will be provided to each Grama Niladhari Division under the Gama Neguma programme.
On April 5th, in order to enlighten the families about the agricultural development program of the government 3 selected domestic units from each Grama Nildhari Division totalling 43,000 domestic development units will be upgraded as Economic Units.  These activities will be carried out by teams comprising the Samurdhi Development Officer, the Agricultural Research Officer, and the Grama Niladhari under the steering of the political representatives of the area and under the observation of the Divisional Secretary of the relevant area.
Another event coming under this programme is holding the New Year in a new format throughout the country with the objective of increasing cooperation and coordination among the people with the participation of the people of the village, the Temple, Church, Mosque, the Kovil and the people's organizations of the respective areas.  The leadership in organization of these events will be entrusted to the people of the respective areas.(niz +)
Source: Government News Portal