Coke sales suspended
Posted by Editor on November 25, 2013 - 9:10 am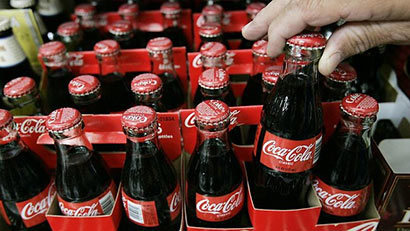 The Kebetigollawa Magistrate issued an order suspending the production and sale of the fizzy drink, Coca Cola in Sri Lanka, for a period of three-months, to Pure Beverages (Pvt) Ltd., Biyagama, after the company was found guilty of distributing for sale, a bottle of Coca Cola, which does not mention the date of production or expiry, or the batch number.
Under the Court ruling, the licence of the company to engage in production, storing, distributing and sale of the beverage in the country, has been suspended for three months.
The Kebetigollawa Magistrate and District Judge, Gayan Meegahage, also ordered the company to pay a fine of Rs 15,000, at
Rs 5,000 for each of the three charges levelled against the company. The three-month suspension was issued by the Magistrate in accordance with Article 18 (2) of the Food Act No. 26 of 1980. The Magistrate also ordered that the suspension issued against the company be published in a national newspaper, the cost of which should be borne by the defendant company, as a fine.
The Magistrate also ordered the Court Registrar that the Court ruling in this regard should be intimated to the relevant authorities that issue the licence to produce beverages.
The Magistrate issued the ruling, taking into account a previous offence to which the company was held responsible by the Public Health Inspector for Anuradhapura, Prageeth Jaliya Jayatilake, and two counts of previous offences filed against the company by the Public Health Inspector for Katiyawa, W.P.S.N. Vasala.
Counsel Mahesh Katuwella who appeared for the company informed Court that an appeal would be filed in the High Court against the order made by the Kebetigollawa Magistrate.
(Courtesy: Ceylon Today)
Latest Headlines in Sri Lanka