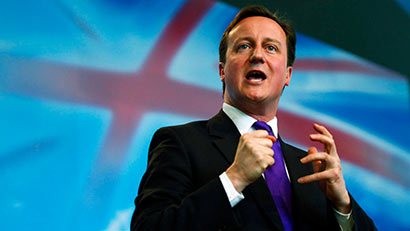 – by Shenali D Waduge –
The best of British we were told would arrive in Colombo to participate in the Commonwealth Heads of Government Meeting hosted by Sri Lanka. We didn't have to say 'Bob's your uncle' for Cameron made quite clear all the way from London he was not going to be fagged by Rajapakse's hospitality and would be asking some tough questions, questions prepared in consultation with the LTTE rump in London amongst whom he is now canvassing after returning. He blew plenty of hot air none of which to be frank was unexpected given the rising number of UK MPs having plunged into the LTTE kitty. What a refreshing difference however was to have the charmed presence of Prince Charles and Mrs. Camilla Parker Bowles. Both blue-blooded and aristocrats Prince Charles sparkled where Cameron failed to shine and he claimed he was arriving to shine some light and he did – upon himself and his uncouth behavior!.
Standing Tall and Standing Small
English politeness is generally said to be everywhere – they are ever ready to dish out 'sorry's, 'please and thank you's but refusing to even sign in the nation's guest book or accept the welcome on arrival is a bit going overboard. More so, unlike 9/11 a one off happening Sri Lanka faced terror for 30 odd years. We are a little piqued that Cameron or any other British Premier never showed the same gusto on civilian deaths apart from issuing a very unemotional official statement denouncing the act of terror and calling both parties for a cuppa tea and chat. Mind you, his very country kept most of the LTTE key leaders on UK soil and continue to do so.
Now this charade went on for a good 30 years. So we are a little puzzled that only when LTTE – terrorists and not freedom fighters, were a whiff short of defeat UK and France sends viceroys Miliband and Kouchner for damage control. Now there would be no storms from Cameron had LTTE not been defeated in May 2009 – is this not the crux of the entire matter?
So what was the point in dashing off to Jaffna or was this part of the UK election deal? Civilians died throughout and one type of civilian cannot be more important than the other as Prince Charles in his opening speech mentioned how he witnessed the rescue operations after the tsunami.
The Prince arrived in Sri Lanka on his 65th birthday and was not 'tired' to attend not only the birthday party organized by the British High Commission but even that of the Sri Lankan President. Prince Charles arrived at the Nelum Pokuna greeting the crowd in the traditional 'ayubowan', he made it a point to speak to every person and every aspect of body language showed he did not land as colonial master to order the colonial slave.
Not taking a leaf from Prince Charles, Cameron however thought he had gone back in time and himself as either the last viceroy or at best one of the British governors since his wife descends from landowners who had African slaves. In refusing to travel in the vehicles arranged and turning a cheek on all the hospitalities that had been specially arranged Cameron showed what a dork he is in our eyes for we are neither Britain's slaves, nor servants and Sri Lanka is certainly not a British colony any more.
Come out with questions – we are ready, we have questions too and our questions have to be answered too. Cameron cannot ask and get answers for only what he wants to hear.
Prince Charles wins hearts of Sri Lankans
Prince Charles's 3 day stay in Sri Lanka covered visits to the museum, to Kandy where he laid a wreath for those killed by the LTTE, when Cameron failed to even remember the 3 Britishers killed by LTTE in 1986, Prince Charles also visited the tea plantations and to the delight of all founding himself putting his dancing shoes to do the Hokey-Pokey even if he couldn't bend like Beckam. ! http://www.telegraph.co.uk/news/uknews/prince-charles/10454075/
Prince-of-Wales-rounds-off-Sri-Lanka-tour-with-a-
cup-of-tea-and-the-Hokey-Cokey.html
Cameron certainly needs to loosen up. He is not exactly well placed to be pointing fingers. Even if we leave out mention of the colonial crimes of the British, or the contemporary crimes in Iraq, Afghanistan, Libya and even Syria he remains haunted by the fact that evidence remains of LTTE sponsors, LTTE activists and LTTE groups continuing to function from the UK. With UK banning LTTE as far back as 2001 we would now like to know if Cameron is taming the tiger! Therefore Britain's moral audit does not give Cameron any scope to point fingers.
What needs to be said was that when Cameron claims he is not satisfied with what Sri Lanka has done it means the British High Commission and others advising him are either feeding him wrong information or they are all working to a different plan. It is only when as Muralitharan said those that see what is taking place in the North now who will realize what change has taken place. Therefore if Cameron came to play tough he can be happy with himself but all those who know which side of the coin the lie is will realize that it is better to have been like Prince Charles than Cameron in the face of hard facts.
Ugly Englishman
Ever Hear of an Ugly Englishman? We have all heard of The Ugly American caricatured in a 1958 political novel by Eugene Burdick and William Lederer upon which a 1963 movie starring Marlon Brando was based. The novel became a best seller.
The novel is set in a fictional nation called Sarkhan (an imaginary country in Southeast Asia that somewhat resembles Burma or Thailand, but which is meant to allude to Vietnam). The book describes the United States's losing struggle against Communism—what was later to be called the battle for hearts and minds in South East Asia —because of innate arrogance and the failure to understand and respect the local culture.
The behavior of David Cameron typifies the Ugly Englishman in Asia. A combination of crass stupidity and low vulgarity. It is shameful conduct unworthy of a Prime Minister of a country that once ruled the waves. It will boomerang on him and his country one day.