Colombo – Katunayake Expressway becomes a reality today
Posted by Editor on October 27, 2013 - 9:55 am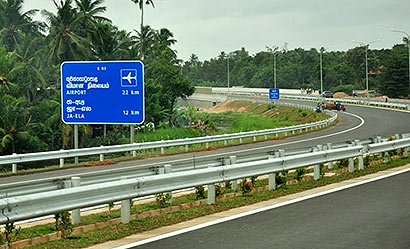 President Mahinda Rajapaksa will vest with the people Sri Lanka's 2nd Expressway, the Colombo Katunayake Expressway today.
The 25.6 Km expressway will reduce the travel time between Kelani Bridge and Katunayake to 20 minutes.
The expressway is composed of 100 box culverts and about 40 bridges along with four inter changers at New Kelani Bridge, Peliyagoda, Ja-Ela and Katunayaka. In future it is expected to have another inter change at Kerawalapitiya once the Outer Circular Road construction work is completed.  .
In 2006, the Chinese government offered funding for the project from the Exim Bank and China Metallurgical Group Corporation, a Fortune 500 company was selected as the contractor.
Agreement was signed in 2008 and actual construction started in August 2009 for a contract period of 36 months at an estimated cost of US$292 million. Road Development Authority officials said that the cost of the project however increased, due to the increased scope of work and new methods adopted in addition to increased safety requirements.
Emergency exits have also been established along the expressway that could be opened up in case of an accident along the route to ensure that those injured could be rushed to the nearest hospitals by opening up the barriers on the centre.
The Expressway is fixed with modern digital sign boards which are not available in the Southern Expressway.
A median of three metres is provided between the lanes for "Christina" plant pushes to ensure that oncoming vehicles would not be obstructed with any glare from the other side and to ensure an eco friendly nature right along the route. Within this median path is a drain established to ensure that the water could move out through these drain without spilling over to the other lane.
Along the Muturajawela marshes the Old Negombo Canal that runs parallel to the expressway has been widened under this project which was initially constructed during the Dutch period. In the future, the government would be looking at beautifying this canal as well by allowing visitors to take a drive along the water ways on boat rides.
A unique aspect of this project is the street lighting that would be provided right along the entire extent of the expressway to ensure that drivers do not find difficulty in travelling along the route.
Construction work was completed by a labour force of about 1000 locals and indirect workforce of 50, 000 and about 500 Chinese technicians.
The Expressway was opened for public view for 3 days from 22nd to 24th of this month and President Mahinda Rajapaksa too joined the foot walks held during this period.
The Road Development Authority spent about Rs. 2600 million to pay compensation for those in Ja-Ela , Katunayaka and the Kenai Bridge area for relocation,.
The government is also in the process of finalizing the plans for the construction of Colombo-Kandy and Colombo-Jaffna expressways.  It has also planned to have a network of expressways in the country under which the Southern Expressway will be extended up to Hambantota and several more expressways will be built to link the major towns of Trincomalee, Batticaloa and Ampara.  (niz)
(Courtesy: Government News Portal)
Latest Headlines in Sri Lanka