Colombo Port City explains its position
Posted by Editor on March 9, 2015 - 8:40 am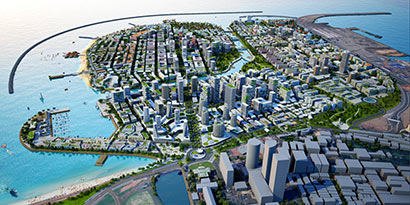 China Communications Construction Company Limited (CCCC), the ultimate investor in the Colombo Port City Project, says it has received an official communication from the government calling for the suspension of the project.
The CCCC has said, in a media statement: "China Harbour Engineering Company Port City Colombo Private Limited, a company incorporated in Sri Lanka which is fully owned by CCCC has received official communication from the Secretary to the Minister of Ports, Shipping & Aviation, communicating a decision taken by the Cabinet Ministers of Sri Lanka, directing the suspension of the on-going work for the Port City Project, with immediate effect.
"The official communication further directs CHEC Port City Colombo (Pvt.) Ltd to submit valid permits and approvals issued by the relevant government authorities. The company will be taking all necessary steps to provide these requested documents as instructed by the Ministry of Ports, Shipping & Aviation to abide by the notification received, without prejudice to the legal rights of the company under the Agreement entered into with the Government of Sri Lanka on 16th September 2014, to develop the Port City Project.
"China Communications Construction Company Limited (CCCC), is a responsible corporate and is a global Fortune 500 public listed company. The company will fully cooperate with the Sri Lankan Government and continue to adhere to the procedures and conditions stipulated in the said agreement entered into with the Government of Sri Lanka, including the commitments contained in the approved Environmental Impact Assessment study and addendum thereto. Further, CCCC will continue to comply with the laws of the country and follow the necessary guidelines issued by the Government for a mega development project of this nature.
"The foreign direct investment by CCCC for the creation of the Colombo Port City Project is USD 1.4 billion and the project is estimated to generate 83,000 local jobs. The project when fully completed is expected to attract international investments with a total value estimated at USD 13 billion. The complete commercial risk of this project will be borne by CHEC Port City Colombo (Pvt) Ltd.
"The technical partners of Port City are world-class companies such as AECOM, one of the world's largest design firms for urban development based in USA, while ATKINS is the world's largest engineering consultancy firm based in the UK.  SWECO of Sweden is the master planning consultant for the project.
"The vision for Port City is to establish Colombo as the ultimate business and tourist destination in South Asia. The land created will attract local and international investments for shopping malls, hotels, apartments, an exhibition centre, educational institutions, healthcare facilities, theme parks, restaurants etc. Port City is planned to be very much a city for the people of Sri Lanka to be shared and enjoyed by all Sri Lankans".
(The Island)
Latest Headlines in Sri Lanka