Colombo should hold talks with Tamils: Manmohan
Posted by Editor on March 9, 2013 - 6:24 am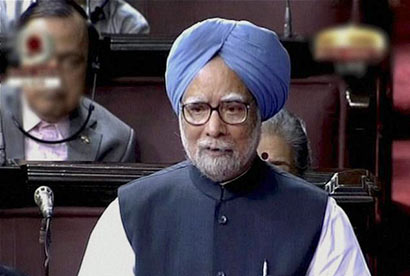 – Submitted by Walter Jayawardhana –
A week before Sri Lanka's human rights record comes up for review before a United Nations panel, Prime Minister Manmohan Singh advocated direct talks between Colombo and the Tamil leadership.
While External Affairs Minister Salman Khurshid on Thursday promised that India would take the "best decision" on Sri Lanka before the United Nations Human Rights Council but revealed little about New Delhi's stand, the Prime Minister was more direct on Friday.
"It will be our effort to work with the Government of Sri Lanka to ensure that Tamil population in Sri Lanka is given a chance to lead a life of dignity and self-respect as equal citizens of that country," Dr. Singh told the Rajya Sabha, replying to the debate on the Motion of Thanks to the President's address.
"There are problems in Sri Lanka. We have been worried about the fate of Tamil people. It has been our effort to plead with the Government of Sri Lanka that there must be political reconciliation, that without national reconciliation, the situation cannot remain calm. The Sri Lankan government must, therefore, take the initiative to talk to the Tamil leadership in Sri Lanka," Dr. Singh said.
If Mr. Khurshid's reply, during a short-duration discussion on the plight of Sri Lankan Tamils, was deemed unsatisfactory by the DMK, the AIADMK and the CPI, all of which staged a walkout along with other parties, Dr. Singh's relative forthrightness also failed to satisfy some.
At the end of his reply, Tiruchi Siva (DMK), V. Maitreyan (AIADMK) and D. Raja (CPI) stood up to seek a more substantive reply. But Chairman Hamid Ansari did not permit them to speak as the Prime Minister had already replied to the debate.
On the imbroglio in the Maldives, Dr. Singh suggested elections as the best course to take the country out of the current atmosphere of "uncertainty."
"In the Maldives, there have been unfortunate problems after the February 2012 events. We sincerely hope that the best course is to have elections for the office of President which are due in September 2013."
Pakistan was another country, mentioned by Dr. Singh, which was part of India's "unsettled neighbourhood." While India was committed to normalising ties with Pakistan, it would "never compromise" its national interest.
The still-active "terror machine" was holding back better relations. "There cannot be normalisation, unless and until the terror machine is brought under control. This has been our policy for the last nine years." India's approach would continue to be the same in dealing with Pakistan in "the coming times," Dr. Singh said. At the same time, sincere efforts to normalise ties had achieved some results such as more people-to-people contacts and improved trade figures. (Courtesy the Hindu)
Latest Headlines in Sri Lanka