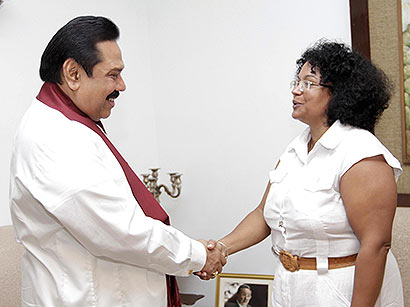 – By Janaka Alahapperuma – Pix By: Nalin Hewapathirana –
President Mahinda Rajapaksa paid his respect to the late Venezuelan President Hugo Chavez this morning on 09 March by signing the book of condolence which is placed for the general public at the Embassy of Cuba at Anderson Road in Colombo.
On his arrival, President Rajapaksa was warmly received by Mrs Dr Indira López Argüelles and other senior members of the Cuban Embassy. The President was accompanied with External Affairs Minister Prof G.L. Peiris.
"The fact that Venezuelans openly weep and mourn his death shows his visceral links with his people," the Sri Lankan President wrote.
President Rajapaksa an admirer of the late Venezuelan leader also recalled the several occasions that he had with the late Venezuelan leader as "very fruitful and forward-looking" discussions. "These meetings with the late President including in Tripoli at the 40th anniversary celebrations of the Libyan revolution in 2009 were always quite lively and assured Sri Lanka that there was a sincere friend in Latin America,"
President Rajapaksa further wrote. "I am grateful for the support he extended to our fight against terrorism, and Venezuela's assistance to Sri Lanka in world forums must be acknowledged."
Earlier in his message condolences President Rajapaksa said that late President Hugo Chavez was a true son of Bolivarian Republic of Venezuela and as the leader was deeply committed to the welfare and development of his country. He was a strong advocate for the developing world. President Rajapaksa further stated that the Venezuela President was a friend of Sri Lanka and played a significant role in further enhancing our bilateral relations.
Meanwhile two ministers, Construction, Engineering Services, Housing & Common Amenities Minister Wimal Weerawansa and Deputy Minister of External Affairs Neomal Perera left for Caracas, the Capital of Venezuela to pay their last respects to President Hugo Chavez and to represent Sri Lanka at the funeral on behalf of President Mahinda Rajapaksa and the people of Sri Lanka.