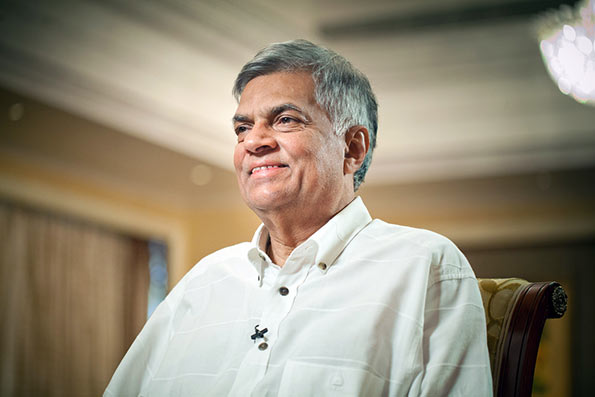 Political opponents have got the space to organise protests in Colombo because of freedom and democracy prevailing in the country, Prime Minister Ranil Wickremesinghe said.
The Premier responding to a question by Joint Opposition (JO) Parliamentary Group Leader Dinesh Gunawardena said in Parliament yesterday that the JO is free to hold its 'Janabalaya Kolambata' protest in a manner that did not disturb the day to day work of the people.
"Tomorrow (5) is not a public holiday.
A large number of students and employees are coming to Colombo. Public transport should not be disrupted. That is the only concern that we have raised," he noted.
The Prime Minister also noted that the MPs must not be obstructed from attending Parliament, adding that it is a right of the MPs provided in the Parliamentary Powers and Privileges Act. "Police can act if this law is violated.They need not wait for our instructions," he added.
"Anybody can come to the city and go back.There is no prohibition.The bar and tavern owners have already kept hopes for a day full of business to earn a lump sum. Thanks to the social freedom that we have established the JO can hold its protest tomorrow.
Are you now trying to find excuses for a low turn up of people for the protest? Don't try to put that blame on the Government and me," he told the JO.
He went on to say that he had received information that the JO has threatened private media organisations demanding prominent coverage for the protest. "Derana has been told to give full coverage to the protest without limiting its coverage to former Defence Secretary Gotabhaya Rajapaksa," he quipped.
"Now there is media freedom and no journalist will suffer the fate of Pradeep Ekneligoda, Lasantha Wickrematunge, Keith Noyahr or Upali Tennakoon, but despite that, I am being criticised all the time. If you have any problem you can file a fundamental rights petition in the Supreme Court," he responded.
MP Dinesh Gunawardena raising a question under Standing Order 27 (2), asked as to why the private bookings of CTB and private buses have been cancelled for a week from September 1.
He also expressed his doubts that the Colombo Municipal Council was preparing to cancel the JOs' reservations of the public grounds violating the fundamental right to assemble peacefully.
The PM said public transport is handled by ten Authorities and out of that, nine authorities belong to the Provincial Councils. "We, in the Government, only have control of one Authority. The JO has to settle their issues with the provincial authorities," the PM replied.
MP Namal Rajapaksa at this point demanded a clear answer from the Prime Minister. The PM responding to MP Rajapaksa congratulated him for trying to convince that he is the leader of the JO.
(Source: Daily News – By Disna Mudalige and Nushka Nafeel)