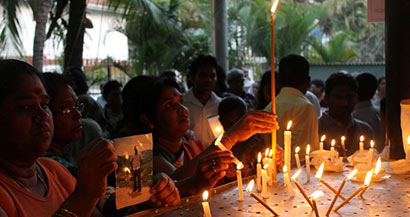 The Presidential Commission to Probe Disappearances will commence its first sitting in Jaffna today.
The Commission will be recording verbal submissions from 14 to 17 February.
Complaints will be recorded from 13 Divisional Secretariat Divisions including Valikamam-East (Koppay), Thenmarachchi, Chavakacheri and Jaffna from 9:30 a.m. to 5:30 p.m.
The Commission said people from Koppay, Irupaalai, Kalviyankaadu, Urumpirai and 10 other Grama Niladhari divisions can submit their oral submissions today.
Tomorrow's sittings will be held in Chavakacheri, Maravampulo, Sanganai , Kalvayal, Nunavil, Mattuvil , Chandrapuram and 10 other divisions.
On 16 February, complaints will be recorded in Jaffna and Navanthurai Grama Niladhari divisions and on 17 Kolumbuthurai, Chundikulam and four other Grama Niladhari divisions.
The first sitting of the Commission took place in Kilinochchi last month.
Courtesy : Ceylon Today