Committee to call for inquiries from all parties on G.C.E A/L issue
Posted by Editor on January 2, 2012 - 4:47 pm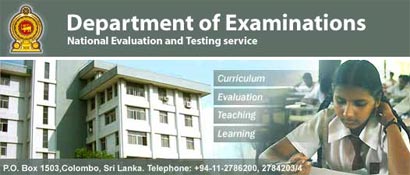 The committee that was appointed to look into the issues which arose in relation to the district rankings of the controversial GCE Advanced Level examinations says that it will call inquiries from all the parties in this regard.
Chairman of the Committee, Secretary to the Ministry of Technology and Research Dara Wijetillakke stated that investigations will be carried on the possibility of computer faults and on the standards of computer analysis.
She further stated that the committee report will be published within two weeks.
Accordingly, recommendations to avoid such situations with regard examinations will made in the report.
The committee appointed by the President under the Chairmanship of Dara Wijetillake to solve issues
pertaining to the district ranks of the Advanced Level Examinations has commenced investigations.
The rest of the committee is comprised of Chancellor of the Colombo University Professor Kshanika Hirimburegama, Vice Chancellor of the Moratuwa University Professor Ananda Jayawardena, Vice Chancellor of the Uva University Professor Ranjith Premalal de Silva and Principal of Royal College, Upali Gunasekara.
Courtesy: News First
Latest Headlines in Sri Lanka